Maximising opportunities in the pet care sector
Author: Nicola McNey, Sales Manager and Segment Specialist, DS Smith UK
Anyone who has a pet knows they are considered part of the family, and this tendency to treat our pets like people has never been more prevalent. Increased humanisation is inspiring pet care brands to develop new products that are convergent with some of the leading trends in the food industry, such as introducing natural products with superfoods and developing a chilled food offering.
There are obvious implications for the way that pet food is packaged to facilitate the move towards fresh and chilled products, but this trend also requires marketers in the pet care industry to think differently about how to engage shoppers in retail environments on and offline. Below are some key insights into the pet food market, and how brands can use these trends to their advantage when considering packaging options.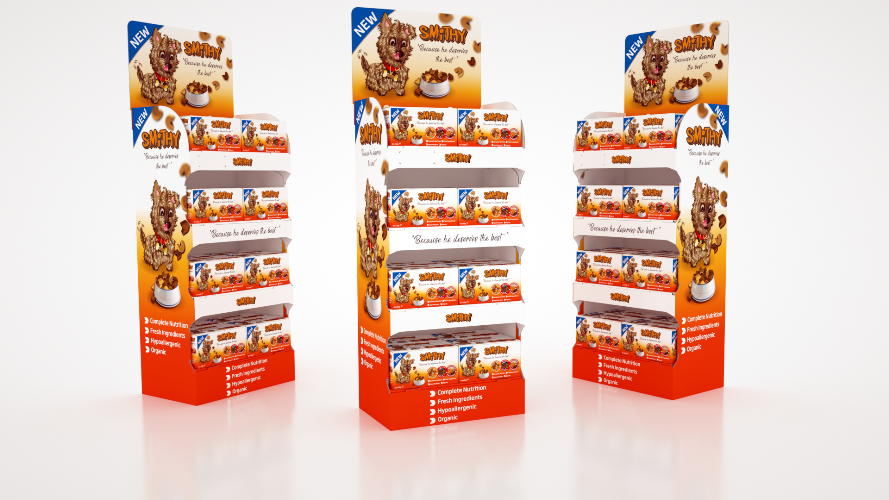 Pet parents
There are synergies between parents shopping for their children and owners buying for their pets, especially relating to the emotional reaction elicited by branding and packaging. The shopper is not the consumer, but the inherent love they have for the end consumer means that health credentials are especially important, as well as knowing that the consumer will enjoy the product.
Campaigns, like Pampers' UNICEF partnership, which tap into the love that parents have for their children and recognises they are likely to be more receptive to emotive marketing, is something pet brands can learn from. In particular, packaging design plays an integral role in a campaign intended to connect on an emotional level. Leveraging pet owners' love of animals and enabling them to help those that are in need, just by buying their brand, will appeal to the shopper and attract a broader audience. On top of this, it enables the brand to unlock feature space in store that wouldn't otherwise have been possible as grocery retailers are more likely to get behind the campaign.
Try before you buy
While it is important to demonstrate the health and nutritional benefits of pet food on labels and packaging, there will always be a concern for existing category shoppers about whether or not their pets will like the food. To encourage trade up and switching, marketers in the pet food category are finding success with trial-size packaging and offers to encourage an introductory purchase and give shoppers confidence that their pets will enjoy the food. Consider partnering with 'doggy day care' and premium kennels; these businesses can add value to their customers by offering a free trial opportunity for pets.
A personalised approach
Personalisation has been adopted by many consumer brands in recent years, with major FMCG brands creating personalised products on a mass scale, such as Marmite and Coke. This is being replicated in the pet care sector by Tails.com, which creates tailormade food for individual dogs. Tails.com allows you to input your dog's individual nutritional requirements based on the responses to nine questions, and then creates a 'unique blend' of kibbles to create a truly personalised batch of dog food. There are similar opportunities to use personalised packaging to tap into pet owners' love of their pets, recognising that every dog is different and has their own needs and tastes.
Premium economy
The premiumisation trend is set to continue but in a highly competitive market, there is a greater opportunity for packaging to demonstrate a deluxe offering. In addition, as formats are changing in this space – for example, the introduction of chilled pet food – shoppers won't always be aware of the location of some items in supermarkets. Therefore, it has never been more important to ensure that products stand out in store and attract the attention of time-poor shoppers who may otherwise overlook these new categories.
Consider using new types of advertising signage with a clear call to action, encouraging customers to visit the chilled pet food aisle. Similarly, for niche retailers, building awareness and driving traffic by targeting shoppers online or in proximity to store is vitally important. Brands need to consider how their communications in and around stores can work alongside packaging to aid discovery.
Summary of four top tips for pet food marketers:
Be emotive with packaging; recognise that pets are part of the family and factor this into branding to engage shoppers at point-of-sale.
De-risk the first purchase by offering trial samples and leveraging positive product reviews.
Personalise pack design to recognise pets' individual needs and lock in shoppers.
Use brand communications to direct shoppers to premium fixtures and niche retailers.
For more information on how DS Smith can support your brand's packaging, please get in touch with one of our packaging experts here