Does your packaging pass the health check?
Author: Nicola McNey, Sales Manager and Segment Specialist, DS Smith UK
Today's consumers are more focussed on their health and wellbeing than ever before, opting for 'clean eating', high in protein and natural food and drink instead of more traditional 'junk food' options. This trend has had such a significant impact that it's now influencing the choices pet owners make for their animals, particularly as the humanisation trend in the pet care sector continues to grow.
This movement is driving product innovation and development within the pet care sector, especially when it comes to health products which are increasingly cantered around specific health concerns, natural ingredients and functional foods, as owners are educated about their own health and therefore researching more about their pets.
Thanks to the wealth of information available and greater awareness of healthier lifestyles, pet owners have a better understanding of how different types of food work and benefit their pets and as such, are looking for this detailed information on pet food packaging. With 45% of UK households now having a pet[1] – a figure that is predicted to rise – marketers and business owners in the pet care sector are facing the challenge of ensuring their products stand out and capture the attention of pet owners on the supermarket shelf.
Packaging – an untapped opportunity
Packaging in all its forms, and especially in shelf-ready packaging (SRP) formats, is an untapped marketing opportunity in store for pet brands to engage with shoppers and encourage purchases. With such high levels of competition in the pet care sector, businesses need to use all the tools at their disposal to engage and attract pet owners to their products, and shelf ready packaging offers a key channel of communication to do this.
The synergies between primary packs and other formats – like SRP, Retail Ready Packaging (RRP) and Point of Sales (POS) – enable brands and retailers to attract shoppers by telling an engaging brand story and highlighting USPs relating to health benefits, while ensuring the quality and safety of products.
Health benefits on pack
When it comes to tapping into the increased focus on health, a brand's packaging is a premium space which, if used correctly, can encourage consumers to switch alliances and try something new for their pet. In fact, new research from DS Smith found that 31% of British pet owners say they would try a different brand of pet food to their usual purchase if the product's packaging emphasised the health benefits of the product[2]. Organic, raw, fresh meat, grain-free and vegan pet foods are all receiving increased interest and securing a growing market share, so it's vital that pet food packaging clearly emphasises these differentiators when on shelf.
Shelf Ready Packaging is the first point of interaction for shoppers in-store and provides the perfect platform for brands to communicate their story and key health information to shoppers, not least by using visual cues that align to the primary pack and key health concerns, while ensuring consistent branding and messaging across all communication touch points.
Similarly, Point of Sale (POS) displays, filled with SRP or consumer packs, play a crucial role in attracting the attention of discerning pet owners. According to TKM's 2017 POS Survey, 82% of marketers rank POS as the most relevant and influential factor in the lead up to a shopper purchasing goods[3]. With increasing numbers of primary pack formats – from bags to cans, and pouches to boxes – SRP and POS displays in-store offer an effective way for pet care brands and retailers to attract the attention and communicate to health-conscious pet care shoppers.
Primary packaging is just the beginning
At DS Smith, we work in partnership with pet care businesses to create SRP and POS that align to primary packaging and tie in with a product's wider marketing strategy. Many brands often focus solely on primary packs that communicate brand messaging but if your message, information or graphics are obscured by the on-shelf packaging, a major opportunity is lost to highlight a product's health or other credentials. Therefore, it's crucial that all aspects of the packaging mix are considered together.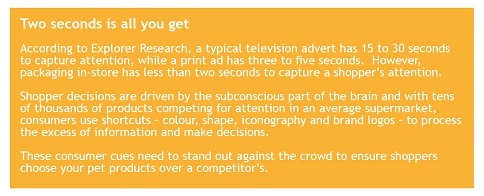 DS Smith's research using eye tracker technology also found that on-shelf packaging helps shoppers find what they are looking for 10% faster. This can lift brand awareness and increase purchase intent, in large part because eye fixations on the branded display increase. With packaging in store having less than two seconds to capture a shopper's attention[4], it's vital that all aspects of the packaging mix for pet care brands clearly communicate the health benefits and key messages on shelf, giving compelling reasons to purchase.
For more information on how DS Smith can support your brand's packaging, please get in touch with one of our packaging experts.
---
Article featured in the December 2018 print edition of Pet Product Marketing.