Pet food packaging is a key driver in shopper purchasing decisions
Author: Nicola McNey, Sales Manager and Segment Specialist

There's no denying that the pet food sector is experiencing a period of high competition, as brands strive for the largest share of the £4.5 billion market1. With this figure predicted to increase, due to 45% of all UK households now owning a pet2, the need to stand out from the competition has never been more essential.
To support our pet care customers in growing their brand, at DS Smith we conducted research into the role packaging can play in driving sales – and the results are in!
When it comes to encouraging shoppers to switch to a different brand of pet food, effective and well-designed packaging is key. In fact, the research found that the following packaging attributes are the top four reasons British pet owners would try a different brand of pet food to their usual purchase:
Packaging which emphasises the product's health benefits (31%)
Packaging which displays detailed information on the ingredients (28%)
Packaging which shows a promotional offer (27%)
Sustainable packaging that is easy to recycle (21%)3
Shelf Ready Packaging (SRP) is the first point of interaction for shoppers in-store and provides the perfect platform for brands to communicate their story and key information, not least by using visual cues that align to the primary pack and ensure consistent branding and messaging across all communication. As packaging in-store has less than two seconds to capture shoppers' attention, ensuring your SRP has the above information clearly displayed could help encourage shoppers to switch from one brand of pet food to another.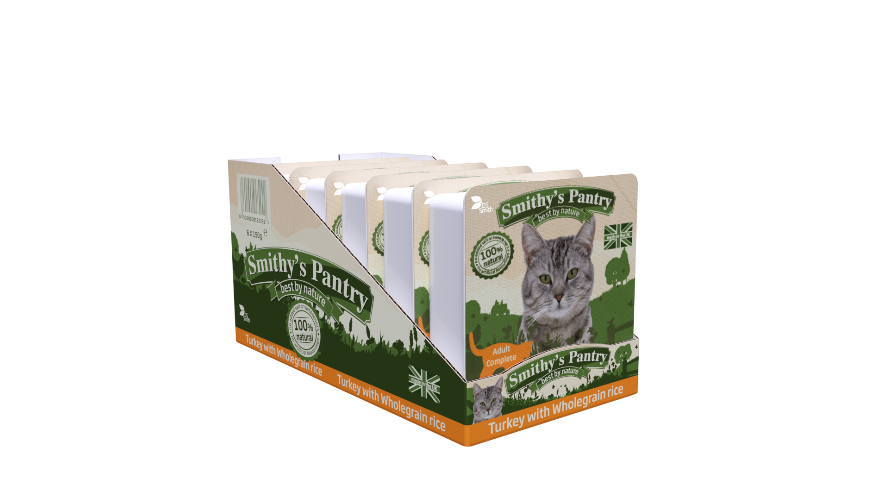 Moving away from in-store to online, where 8.3% of cat and dog food purchases are made4, the research uncovered that ensuring a product arrives safely and undamaged is the most important factor to British pet owners when it comes to e-commerce packaging (28%)5. Having detailed product information (18%) and not using excess packaging (11%) have also been cited as the second and third most important influences6.
Looking at the sustainability of packaging – a topic which has been high on the media and political agenda this year – our research found that when considering the sustainability of the pet food they purchase, over a quarter (27%) of British pet owners said that having packaging which can be recycled is most important to them7. It makes sense that if you're positioning your brand as ethically-sourced, your packaging should reflect this.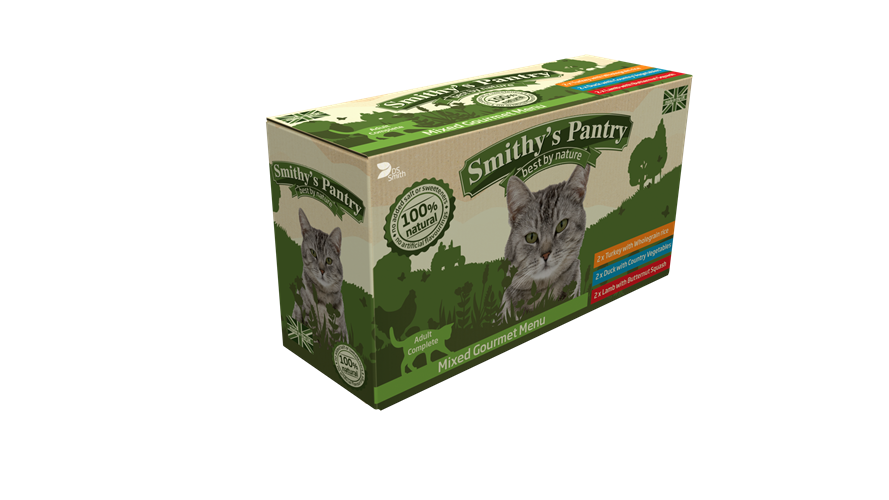 At DS Smith, we work with a number of leading pet care brands to create packaging which makes the best use of resources. Currently, the fibres we use can go from box to box within 14 days via our circular model. This means corrugated boxes are made, used, collected, recycled, and made back into boxes again in as little as two weeks. Our team of expert packaging strategists always strive to find the best packaging solution, using no more material than necessary for both online and in-store packaging to not only protect but also promote brands, in a sustainable way.
What this research shows is that packaging in all its forms – be it on shelf or provided by online retainers – is an untapped marketing opportunity for the pet sector. The synergies between primary packs and other formats enable brands to attract consumers in a crowded marketplace and tell an engaging brand story, while ensuring the quality and safety of products. Effective packaging can drive sales by matching sales space and optimising product availability, while also encouraging efficiencies in distribution and logistics, resulting in supply chain time and cost savings.
For more information on how DS Smith can support your brand's packaging, please get in touch with one of our packaging experts.
Editors Notes
All figures, unless otherwise stated, are from YouGov Plc. Total sample size was 4515 adults of which 2317 were pet owners. Fieldwork was undertaken between 21st - 25th June 2018. The survey was carried out online. The figures have been weighted and are representative of all GB adults (aged 18+).
---
[3] YouGov Survey of 2,317 British pet owners, June 2018
[4] Euromonitor International, 2017
[5] YouGov Survey of 2,317 British pet owners, June 2018
[6] YouGov Survey of 2,317 British pet owners, June 2018
[7] YouGov Survey of 2,317 British pet owners, June 2018