Nutritious snacks that stand out in the aisles
Snack manufacturer creates an impact in store and saves almost 50% in warehouse space with clever new corrugated.

Healthier snacking brand Eat Real wanted to make waves with the launch of its range of pulse and grain-based snacks, so they approached packaging strategists at DS Smith to consider how the product could stand out in the crowded supermarket aisles and grab the attention of busy shoppers in a cost-effective way.
Eat Real products are made from all natural ingredients with no added artificial flavourings, colourings and preservatives and the team really wanted the packaging to reflect these brand values. This means that as well as being visually arresting in store, the stand also needed to safely transport the goods throughout the supply chain.
The final design, a two-colour stackable tray provides a striking POS display in store. The graphics compliment the primary packs and created a strong visual impact. For convenience, the front of each tray can be removed, enabling shoppers to grab a bag from any level on the palletised stack.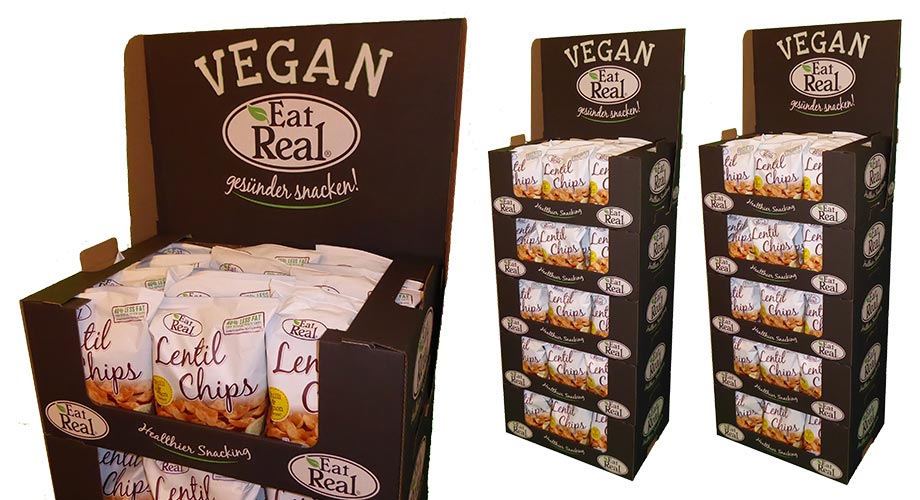 In addition, the combined pack is significantly quicker to assemble in store than other alternatives, taking less than 10 seconds to put together. The retailer also has the flexibility to vary the height/shape of the POS display according to individual store requirements.
The packs are 100% recyclable. They have also been designed to fit two on a standard transit pallet and the header card travels flat before being erected in store. This has led to a substantial warehouse space saving of 50 per cent.
Becky Wilcock, Marketing and Communications Director at DS Smith's UK Packaging Division, explains: "This is great evidence of just what can be achieved when POS, packaging and logistics are considered upfront during new product development. When marketing, sales and supply chain teams work effectively with product development, substantial savings can be achieved from the off, both in terms of cost and the environment."
Debbie King from Eat Real describes the end result: "We were thrilled with the ingenious display unit that DS Smith devised for us. The new display stand has had a significant commercial impact for us. It combines effective in-store marketing with supply chain efficiency which is vital to us as a global company and DS Smith has totally embraced this side of the brief with its innovative solution."