Modular all-round display for Nestlé Purina PetCare
"Purina Excellent" – Combining innovation and good looks with fewer parts delivers more variations and a more efficient display.

Challenge:
In order to promote its comprehensive pet food range in an eye-catching and cost-efficient way at the P.O.S., Nestlé Purina PetCare is now backing the versatility of a modular display solution. The all-round display developed by DS Smith bundles many variations into one system. Body, shelves, panels, base covers, trays and functional elements can be adjusted to the various requirements, as required, with minimal effort. Be it standard, relaunch or special promotion - the sophisticated building block principle of DS Smith creates the highest level of flexibility in use and, thanks to the high-quality printed visuals with a refined varnished image, always looks good in the sales area.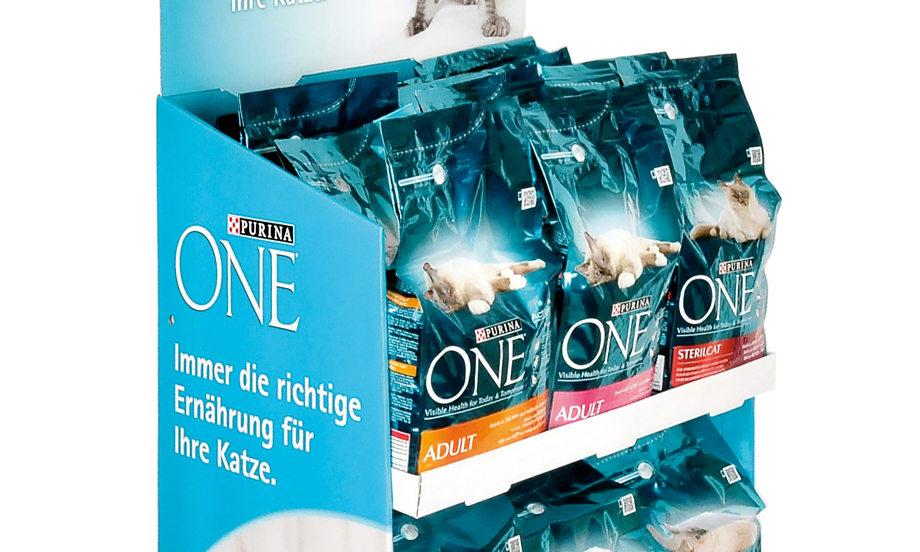 Our Approach:
Alongside the much lower complexity of the display portfolio, the modular solution streamlines the entire production and logistics supply cycle. Even different graphic designs can be bundled thanks to the uniform display components and can be produced in one production cycle - with all of the efficiency benefits associated with it: starting with the lower tooling and equipment costs, to the better machine utilisation, to the shortened lead times in the production of the displays. The clever all-round solution by DS Smith combines a maximum level of functionality, efficiency and quality with a goods presentation that is as appealing as it is clearly arranged, which increases sales.

Results:
One solution, many faces - with the modular solution by DS Smith, Nestlé Purina PetCare has been able to significantly reduce its large inventory of display structures and therefore generate a real added value along the entire supply cycle. Be it in manufacturing, storage and packaging or in the promotion of the comprehensive pet range at the retailer - the all-round talent streamlines the processes, reduces costs and ensures more sales at the P.O.S.