Dr Organic receives DS Smith treatment
DS Smith's packaging division has helped Dr Organic create a new suite of packaging to support its e-retail offer.

Natural skincare brand Dr Organic uses only the finest natural and organic raw ingredients in its products and has developed a loyal customer base since launching in 2009.
As a brand built on a firm commitment of premium ingredients and ethical practices, Dr Organic was keen to ensure its e-retail packaging reflected these values.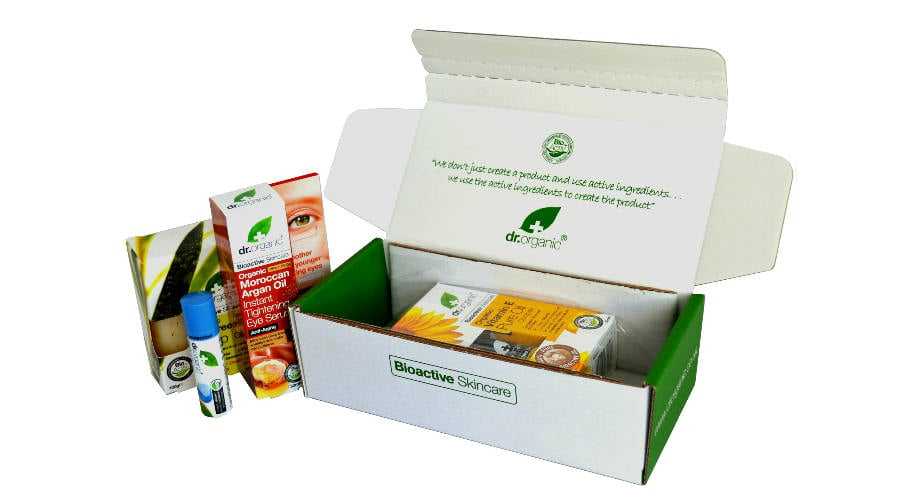 It approached the packaging division of DS Smith to help it create corrugated packaging that delivered the brand experience to customers' homes whilst ensuring the products inside were well protected and arrived safely.
Anthony Davis, Creative Director at Dr Organic, said: "We always put our customers first and this includes making sure they have an enjoyable experience when they receive their goods at home. We set DS Smith a tough task with a number of important practical requirements as well as the need to communicate our brand values effectively."
DS Smith's expert designers worked closely with Dr Organic to build a range of packs that hold the product firmly in the centre, creating a small void around the pack for transit protection.
Anthony added: "The cases are quick to erect and the securing adhesive tapes mean fast packing, and ensures security and tamper evidence. The easy opening rip strip also supports a positive customer experience on receipt of the product and enables an easy returns process if a customer needs to send any products back.
"We're in a competitive market so it's vital we have the ability to pack quickly and reduce unnecessary costs through inefficient processes or damaged goods. We really feel we have got a solution that eliminates risk and maximises sales."
The packs are printed both on the outside and inside liners, which complements the brand.
Tony Foster, Sales & Marketing Director, of the UK Packaging Division, said: "Shoppers are increasingly comfortable with ordering products online and they have an expectation that their goods will be delivered in a cost-effective, timely manner without damage or defect. With a brand built on quality and provenance, the expectation is even higher.
"Although shopping habits have changed the power of a brand is as strong as ever and customers still want to enjoy the experience of purchasing a much anticipated product – whether it is collected in a store or delivered to their homes. Translating the brand values successfully into homes around the country is absolutely critical to any e-retail strategy.
"Corrugated packaging is 100 per cent recyclable and so is the perfect choice for Dr Organic. Its customers are clearly environmentally aware and will understand the value of using just the right amount of fully-recyclable packaging."