Creating the 'wow factor' for Flowers Direct
When online floral retailer, Flowers Direct wanted to create a strong brand experience for its customers, it challenged DS Smith to come up with packaging that encapsulated its brand values - simple, genuine, natural and fresh.

The packaging had to be easy to open, aesthetically pleasing, environmentally friendly and protect the fresh flowers it would transport.
What both Flowers Direct and DS Smith agreed from the outset was the need to create packaging that created a point of difference, was unique in the marketplace, and provokes a strong positive reaction on arrival.
Working closely together the team reviewed customer insight and the brand essence; as well as more traditional elements such as auditing the packing process and understanding the courier system.
Dominic Weston, Head of Product at Flowers Direct, said: "We engaged early with DS Smith to produce more than just a means to transport the flowers. What we deliver is very special, both to the sender and receiver and so it was vital we were leaving no stone unturned to make sure that everything led towards the moment of truth when the flowers were received on the door step.
"What DS Smith came up with was perfect. The shape was unique, the package easy to open and it met with all of our environmental requirements."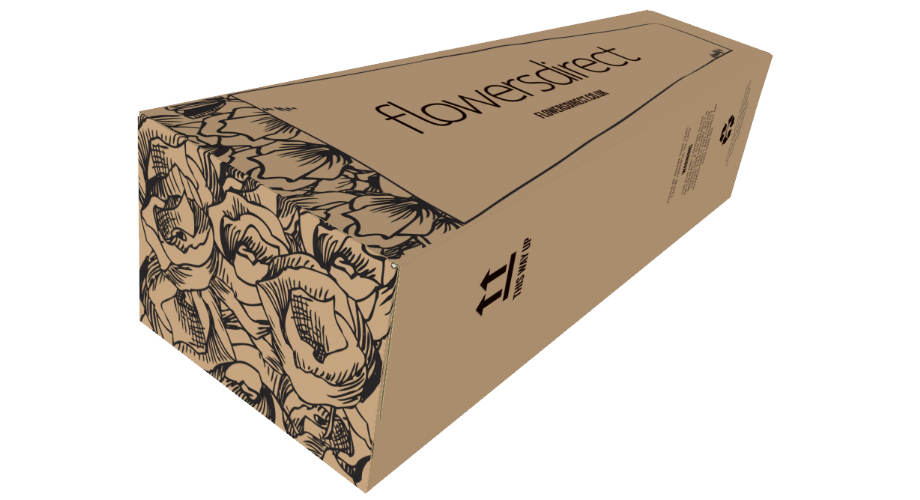 The final design embraced Flowers Direct's simple and fresh style. The unusual shape complements the bouquets and makes the delivery special, from the moment it arrives at the customer's doorstep. That it has integrated a single, self-sealing tape limits confusion when opening while it also maintains security through transit, assuring there is no damage to the flowers.
Alan Potts, Market and Product Development Director, of DS Smith, said: "Home shopping is the fastest-growing retail market in Europe and it's clear that it's a channel that's here to stay, with online sales in the UK set to increase by more than 18% this year.
As a company we've responded early to this trend by innovating packs that match shopper expectation and that protect even the most fragile of products through the most rigorous and complex of supply cycles. Early engagement with Flowers Direct allowed us to ensure our design aligned with their whole marketing strategy from the outset."
Dominic Weston added: "We really are passionate about the quality of our flowers to ensure we're able to make the best impression to loved ones on their special day. Every stem used in a Flowers Direct bouquet is carefully checked before being added.
"We believe we have a design to embody this ethos and to meet – and, moreover exceed - the expectations of our customers."
The packaging was recently shortlisted for 'Resource Efficient Pack of the year' and highly commended in the 'Consumer Convenience Award' in this year's UK Packaging Awards.