Calbee & DS Smith join forces to make big impact with shoppers
When major Japanese snack manufacturer Calbee UK needed a range of eye-catching retail ready packaging (RRP) to help it make a big impact, it turned to DS Smith's UK packaging division.

Engaging at an early stage the two companies worked closely together to develop retail ready packaging that would appeal to shoppers. The RRP, a crucial element within the promotional mix, creates attention for this newly launched product.
David Wilson, Marketing Director for Calbee UK, recognised the task at hand. He said: "To get a completely new brand off the ground very quickly takes a huge amount of skill and certainly presented us all with a challenge.
"Having DS Smith as a core strategic packaging partner was a very important decision to make to establish a strong foundation in the UK. They not only brought experience but also provided layers of added value, creative, commercial and pragmatic thinking and had the flexibility and ability to turn things around to meet with our limited timescales."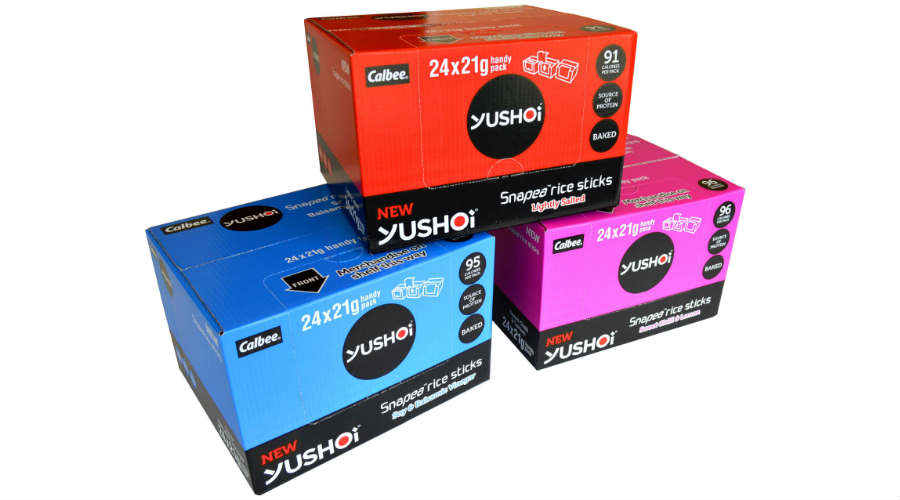 Part of the strategy was to ensure each flavour variant of Calbee UK's Yushoi range of products were colour coded to provide strong stand out on shelf and to encourage the consumer to try something new. The perforation was specified to ensure a clean and easy opening function and the packaging was finished with high quality flexo post print.
Mike Alvis, Sales Director of the UK packaging division at DS Smith, said: "Calbee UK is already well established in the USA and Japan so the briefing process was smooth. They wanted a high quality print with a gloss finish, effective perforations and white papers both in and outside of the pack to create the premium feel the brand deserved.
"We approached our solution by applying our PackRight process to gather insight and developed solutions that we felt certain were right for our customer and their supply chain. The development process resulted in a corrugated solution that protects the product, is space and cost efficient, complies with retailer requirements and supports the brand and retail strategy."
"It was extremely satisfying to work with Calbee UK from the outset. Its team clearly recognised that corrugated shouldn't just be seen as a transportation device. By engaging early we were able to align strategies to produce something that worked for our customer, the retailer and the shopper.
"Our industry is built around bringing products to market and in this case our packs invite the consumer to choose one over the other, and to be drawn to that brand. The hours of manufacture, distribution and transport come down to that one single moment of truth, when the product has to be the best on show in order to attract the shopper. We believe we have achieved this together."
The first brand went live in June with the announcement that Olympic gymnast, Louis Smith MBE, would provide ongoing endorsement for the product building messaging around its healthier credentials.
The product is now listed in WH Smith, Selfridges, Whole Foods Market, The Cooperative and Morrisons with 21g and 105g formats available, as well as 6 x multi-packs in four flavours; Lightly Salted, Soy & Balsamic Vinegar, Smoked Salt & Szechuan Pepper and Sweet Chilli & Lemon.
David Wilson says he now looks forward to seeing the brand engage with consumers on many different platforms to drive awareness.
For more information about Yushoi Snapea rice sticks please visit www.yushoi.co.uk.