10 things you never knew we did
At DS Smith, we pride ourselves on our commitment to working collaboratively with our customers and partners to meet their needs. Every so often, however, we receive a request that really gets us thinking. We like to say there is nothing we wouldn't do, or try to do for a customer. In our eyes, the customer is always right and we will leave no stone unturned in our quest to delight and surprise. In celebration of this, we wanted to share some of the more unusual requests we've had over the years.
1) World's first origami car
DS Smith's UK designers were pushed to the limit when they helped to build the world's first, full-size origami-inspired car using 1,700 fully-recyclable precision-cut cardboard sheets. The origami car has a fully fitted interior, functioning doors, headlights and rolling wheels and an electric motor mounted on its steel and aluminium frame.
2) Bird boxes
Conservationists in Hungary asked DS Smith to design a special box for migrating swallows to take refuge in after they've been caught for ringing (the process of capturing swallows and attaching a small tag to the leg to enable individual identification). Sometimes hundreds of swallows need to be accommodated and in the past, it had been impossible to ensure the birds' safe and comfortable stay. It was necessary to find a brand new solution to speed up the ringing process.
After a long process of design, development and experiments, DS Smith developed a new, comfortable solution called Hirundobox which was then examined and tested by experts at Budapest Zoo and the Hungarian Ornithological and Conservation Association (BirdLife Hungary). The Hirundobox fulfils the birds' needs and meets the expectations of the ringers as well. It has natural ventilation on the sides and top and an appropriately sized door with an easy-to-use lock to make the ringing procedure faster and safer. The full sized convertible top and top-locks also provide the possibility of setting the swallows free quickly and easily.
3) Corrugated cutting table
The Paroc Group, the leading insulation supplier in Finland, Sweden, and the Baltics, approached DS Smith with an unusual request. As a manufacturer of stone wool insulation, they usually use an aluminum cutting table for cutting mineral wool slabs. Unfortunately, this is an expensive product that some of their customers didn't want to buy. But without a proper cutting table, it's hard to cut straight which is necessary for the insulation. To tackle this challenge, the Paroc Group asked DS Smith to design a cutting table made from corrugated cardboard which it could send to its customers without charge. They wanted it to be stable and have the added element of marketing their product and brand. They also wanted markings on the table and a ruler for measuring. DS Smith relished the challenge and the end result was a big hit with the customer.
4) Boxes for prosthetic limbs
DS Smith teamed up with the charity Legs 4 Africa to support its efforts to send 1,000 much-needed, prosthetic limbs to Africa. In partnership with the Leicester-based charity and other local businesses, the DS Smith UK packaging division provided large, rigid cardboard boxes to ensure the safe travel of the cargo.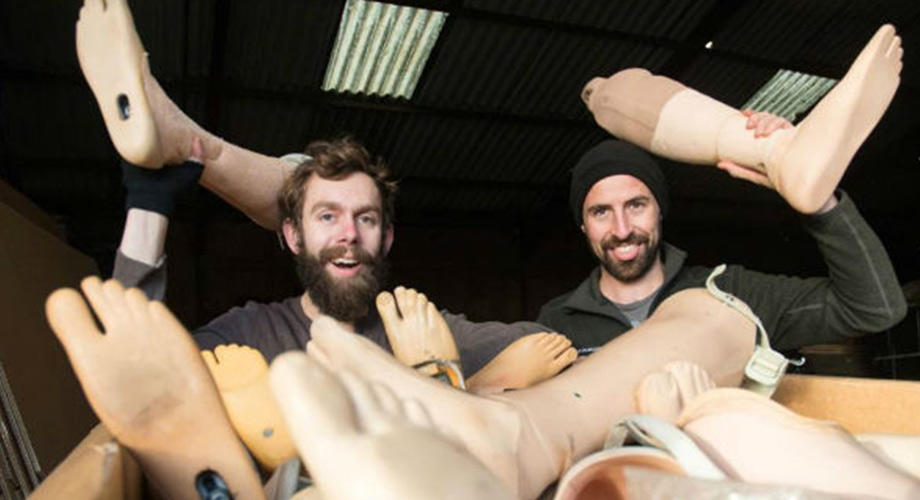 While thousands of prosthetic limbs are disposed of every year in the UK, African hospitals are in desperate need of them and each one can make a life-changing difference. The special consignment was sent to The Gambia and Senegal where mobility units have patients who have lost limbs due to diabetes, road accidents and war. Without this type of support, patients would have to pay well over their national average annual salary for a prosthetic leg.
5) Cardboard houses
French insulation specialist,Bat'Ipac, saw a gap in the market to use corrugated sheets in place of traditional insulation products when building new houses. After seven years of perfecting the product and securing the necessary insurance, Bat'Ipac, in collaboration with DS Smith, finished its first test house west of Paris in 2012. Since then the partnership has succeeded in building a further thirteen houses across France. DS Smith provides between five and ten tonnes of corrugated sheets per house, which Bat'Ipac then laminates together, sheet by sheet to create the insulation.
Bat'Ipac's rapid expansion plans include building 100 houses in the next 12 months and DS Smith will continue to support this expansion, with its network of plants across France and Europe.
6) Boxes for brains
DS Smith was approached by a customer in the medical industry, who asked if we could provide easy pack pallet boxes suitable for transporting human brains. The solution needed to be suitable for moving more than 7000 human brains from laboratories and institutions in the UK to a number of other countries for on-going research. The organs, donated altruistically and some up to 50 years ago, are suspended in a weak solution of formaldehyde and contained within an outer "sandwich box". The UK design team worked with the customer to develop a Duaboard (AA flute) bulk Heavy Duty solution, based upon the customer's preferred "Easy Pack" style.
7) Cardboard coffins
DS Smith first started producing cardboard coffins for its customers more than 20 years ago. After eight years of research and development with abCrémation in France, it launched a model to meet stringent new requirements for coffins. The new standards were imposed by the Ministry of Health and ANSES (France's National Agency for food security, the environment and work). It decreed that all coffins used in cremations must meet rigorous standards validated through mechanical testing and climactic, atmospheric and specific emissions.

As a result, DS Smith created a unique, patented, ecologically and economically responsible product. Sales have now increased thanks to growing export potential and the fact that abCrémation can offer customisation and other sizes. In addition, customers now have peace of mind that all regulations and standards are safely met and the coffins have better environmental credentials as they are made from 100 per cent corrugated cardboard composition (natural fibre) and printed with aqueous inks.
8) Giant pasty box
DS Smith was approached by Ginsters, the sponsors of football team Plymouth Argyle and biggest selling pasty maker in the UK, with a unique request. It wanted to create a 2ft giant box for an enormous pasty that it hoped to present to Jurgen Klopp, the manager of Liverpool football team after the FA Cup third round replay against Plymouth Argyle. The managing director of Ginsters presented the pasty in its box to Jurgen Klopp at the post-match Press conference and it received lots of media attention.
9) Paper Pong
DS Smith in Portugal teamed up with Decathlon, an organisation that pioneers and tests sport products, to develop a table tennis table, "Paper Pong," made entirely of paperboard and honeycomb. Initially, 1,700 paper pong tables were delivered to shops in France, Netherlands and Portugal. A week later, Decathlon informed DS Smith it had received an order for 2,000 tables from one costumer alone.
10) BedKind
DS Smith's Recycling and Packaging Divisions in the UK worked together to transform production off-cuts of clean, pre-consumer cardboard into a new product: dust-extracted animal bedding that's beneficial for horses and their owners alike. DS Smith's cardboard is made to high standards, which means that it makes great bedding – and cardboard's unique properties mean that BedKind keeps animals warm and dry as well as helping them to breathe more easily.
From boxes for brains, to corrugated ping pong tables, we have heard and seen it all. Innovation is at the heart of our business and we love working on projects like the above that really test our design capabilities. And more than that, we've shown time and time again that we are willing to push beyond the day to day customer brief and think outside the box. So, on to the next unusual request…!