Record success for DS Smith at POPAI UK and Ireland Awards 2021
Our Retail Marketing team scooped a record number of six wins at this year's POPAI UK & Ireland Awards, celebrating creativity, innovation and excellence in-store. These included a gold limousine, zebras, unicorns, a Huey helicopter and a Christmas grotto – all entirely designed and produced in-house by DS Smith.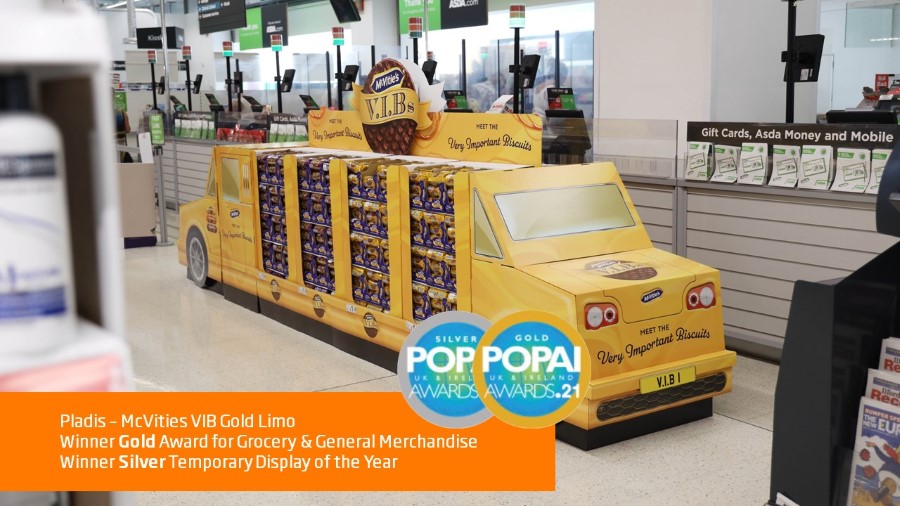 The competition was particularly tough this year, with POPAI citing that they received more entries than ever before. DS Smith's submissions were taken from the most exceptional period for retail due to lockdowns and other factors like Brexit making for an extremely volatile market to deliver in. Each example was rated by a panel of judges selected from brands and retailers across the UK against criteria including creativity, complexity, material use, sustainability and, of course, return on investment to the brand.
DS Smith's winning contenders were praised for their ingenuity and overall execution. In the Grocery and General Merchandise category Premier Foods won Bronze with a double-sided pallet display devised to bring Angel Delight and Mr Kipling's unique Unicorn-flavoured NPD to front of stores. It was a highly effective and widely implemented display which the POPAI judges thought was: "Impactful, flexible and modular with good branding, can be shopped from both sides."
Reckitt won Silver in this category with DS Smith's entry for Air Wick – a four-sided full pallet display shaped like a Christmas grotto with scented lift-up pods for shoppers to experience the different scents of the products.
The judges stated:"Pre-filled for compliance and economy, this display received great feedback and achieved a 234% year-on-year sales uplift."
The Gold award was given to another DS Smith POS display for the McVities VIB Gold Limo. This modular execution brought the red-carpet treatment to stores from kits of POS which could be configured to form up to four pallets of stock emulating a stretched limousine. POPAI's judges were so impressed with this display – commenting on its "Great wow factor and sales uplift" ­– that it was also awarded Silver for Temporary Display of the Year; the second year in a row DS Smith has received this particular recognition.
Then in the Wholesale and Short Run Display categories we brought home two more awards. The first was for Premier Foods for their Huey Helicopter in partnership with Activision's latest Call of Duty game with Batchelors Super Noodles. The idea was to drive penetration with an on-pack promotion by captivating shopper attention with a life-sized helicopter, so they would pick Super Noodles as their choice of snack whilst they game.
The judges thought the execution had "Great stand out and good value; easy to shop and for stores to replenish".
In the Wholesale category Nestle picked up Silver for their Zebra KitKat display; again, the cardboard engineering was a feat of creativity and structural integrity to create easy-to-assemble 3D zebras which flanked the product at aisle ends. The judges commented: "Clever design, with the zebras delivered flat packed but they pop up when unpacked".
It was fantastic to receive recognition for the culmination of being able to work collaboratively yet virtually with customers during the pandemic and bring the very best in cardboard structural design and creativity. The awards ceremony felt extra special for some because it was the first time in 18 months that they had face-to-face interaction with their colleagues and customers – a wonderful way to celebrate their success.