DS Smith launches new Essential Solutions e-commerce range to support business during COVID-19
London, 15 May 2020: The Covid-19 pandemic has forced many organisations to review their supply chains and, in many cases, revise traditional business models in favour of e-commerce – delivering their product direct to the consumer.
While many businesses are working tirelessly to meet the surge in demand of online orders, a large number of SMEs and local businesses across the country have had to adapt rapidly – often facing the prospect of transitioning their business online for the first time.
Uniting them all is a need for solutions that help increase their effectiveness when it comes to e-commerce. To support them at this time, packaging giant DS Smith has launched the Essential Solutions online e-commerce range - a simplified range of products designed to offer immediate solutions for organisations looking to transition online quickly and easily; particularly SMEs and local businesses who can benefit from a proven off-the-shelf product.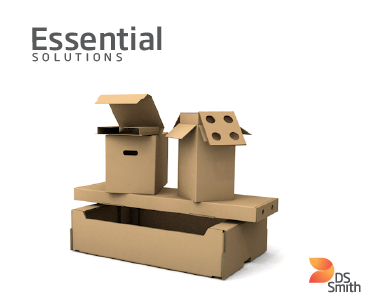 The range is comprised of solutions for the most popular applications including; letterbox packs, an essentials provisions box, a corrugated tray replacement for recyclable plastic crates and bottle packs. The solutions are available immediately online via their ePack webshop (www.dssmithepack.co.uk) with next day delivery available.
The range has been specially designed to be versatile, suiting products in a variety of sectors, including; food and drink, apparel and footwear, health and beauty, home and garden, Sports and leisure and pharmaceuticals
Rob Carle, UK Head of e-commerce Sales at DS Smith commented "During this uncertain time, we're seeing many businesses facing supply chain challenges and needing to rapidly revise their traditional business models to include e-commerce. The Essential Solutions range gives businesses the support and assurance they need to adapt quickly and continue to get their goods out the door."
DS Smith is renowned for its range of sustainable packaging solutions that support all sizes of businesses – from start-ups to FTSE100 companies.
To purchase any of the products from the range, the site offers a quick and easy sign up process where customers can then select the product that best suits their needs. For a personalised experience, the webshop team are available on the phone to guide prospective customers through the range and ensure they can be up and running promptly with the ideal product packaging.
Aimed at helping businesses transition online quickly, the Essential Solutions range responds to the evolving demands for packaging and offers solutions to promote, protect and contribute to efficient distribution at every stage. Businesses can be confident that their brand image is protected, products reach their customers in top condition and that their customers have an easy opening and frustration-free unboxing experience.
Rob Carle, UK Head of e-commerce Sales at DS Smith commented "e-commerce packaging goes through 50 different touch points with the consideration of returns, making it a harrowing process for businesses who are embarking on this journey for the first time. We've been supporting businesses with their packaging challenges for years, and our scale, expertise and speed mean we are best placed to support with their e-commerce needs now and in the future."