DS Smith's UK Packaging MD and senior management team prepare for London Marathon
Managing Director of DS Smith UK Packaging, Chris Murray, will be taking part in the 2018 London Marathon to raise money for Heart Research UK. He will be joined by two other members of the DS Smith senior management team – Operations Director, David Jones, and Strategic Account Manager, Mike Rutherford – to tackle the 26.2-mile course around the Capital on Sunday 22 April in aid of national charity Heart Research UK.

DS Smith and Heart Research UK have been working in partnership for five years through the charity's Healthy Hearts scheme, which strives to increase awareness among the packaging firm's UK employees of potential health risks and actively supports them in leading healthy lifestyles.
Speaking about competing in his first marathon, Chris Murray, said: "Heart Research UK is a fantastic charity and one that has not only helped inspire DS Smith's employees to improve their health for the future, but also works tirelessly to provide pioneering medical research into the prevention, treatment and cure of heart disease.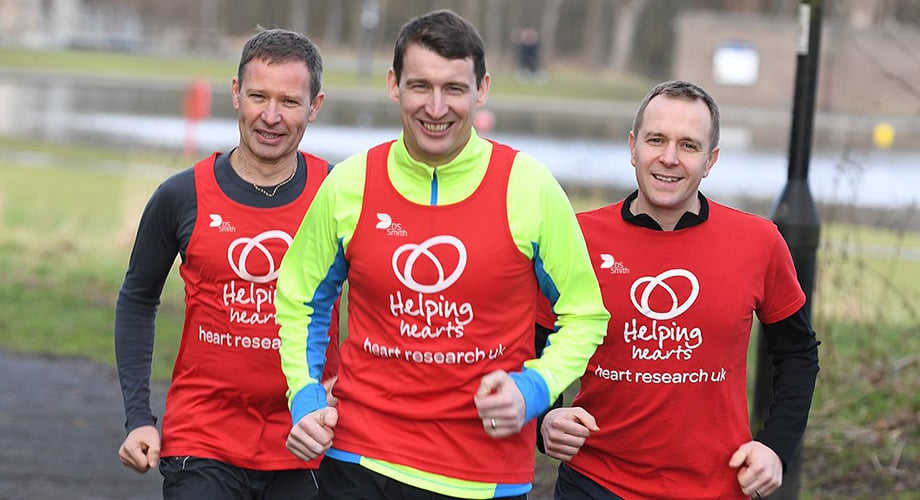 "Participating in the London Marathon is going to be one of the biggest challenges myself and my team mates have faced, but we're determined to do all we can to raise awareness and vital funds for Heart Research UK. We also hope to inspire colleagues to exercise and challenge themselves more, both when it comes to the workplace and at home. Having been preparing for months, we can't wait to get on the start line to support heart health on 22 April."
Barbara Harpham, Chief Executive at Heart Research UK, said: "DS Smith are our largest corporate partner and together we've made their employees' healthy heart lifestyle a way of life, especially at work. All its sites have taken part in healthy heart activities, ranging from healthy advice to achieving our prestigious gold Healthy Heart Mark.
"Over the last five years, employees have used their efforts to have an impact on their local communities, raising money to pay for activities in neighbourhoods around each site, particularly in schools. We are proud that this is a partnership that will help members of staff and local communities live healthier, happier and longer lives for years to come. We wish Chris and his team the very best of luck in this year's London Marathon and want to thank them for supporting Heart Research UK."
Heart Research UK helps communities across the country improve their lifestyles through Healthy Heart Grants, training clinicians in expert techniques and educating families, children and workforces about heart health and how to improve their health for the future.