ROYAL CANIN® goes 3D with the help of DS Smith
ROYAL CANIN® joined forces with DS Smith to create stand out in-store packaging for its active dogs' range.

ROYAL CANIN® offers one of the largest, most precisely tailor-made ranges of pet food – meeting dog or cat's breed, size, sensitivities, age or lifestyle to generate sales uplift and brand awareness for its premium range of dog products slalom poles, tunnels and hurdles were available on promotion, the brand wanted to showcase active dogs in an innovative way by creating theatre in-store.
As part of the Crown Pet Foods portfolio, the range is distributed predominantly through independent stores where it can be challenging to secure space and gain stand out. Previously, ROYAL CANIN® has experienced further challenges due to the disparity of the stores and, because of economies of scale, units tended to be formulaic to help with compliance.
To overcome these challenges, ROYAL CANIN® enlisted the help of DS Smith to design multiple display packaging formats that meet the requirements of the varied retail environments the active dog's campaign targets.
As part of this, DS Smith created a collection of 3D point of sale (POS) displays, which allowed the stores to pick a design that complemented their specific outlet. The designs included a mix of product holding and theatrical pieces featuring dogs in various agility activities, to demonstrate the features and benefits of the training accessories.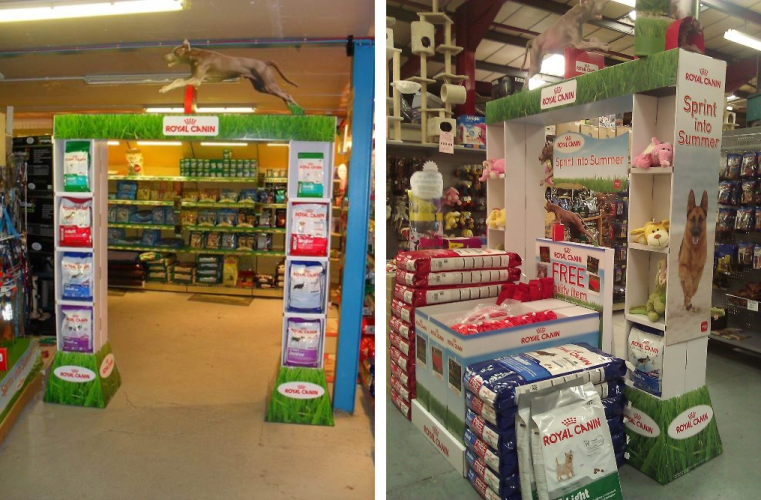 A 3D arch and FSDU stacker, which hold the product, were cleverly engineered to be structurally sound and withstand the weight of the product contained. The agility pieces also enabled the retailers to create theatre and buzz in store, while the window kits, hanging banners and mobiles gave the retailers the flexibility to highlight the campaign throughout the store and during the shopper journey.
During the active dog's campaign sales rose by 40%, a result ROYAL CANIN® was delighted with. In addition, the brand received positive feedback from many retailers, including comments on the quality and durability of the POS, which was situated in busy environments.
Gemma Duffield, Retail, Breeders and Professional Marketing Manager* at ROYAL CANIN®, stated: "The big positive of the active dogs' display packaging is that the promotion pulled shoppers into stores and generated lots of questions about the range. We were really impressed with the displays, as they were so striking and of outstanding quality, but the main strength for us was that they are very different from the norm – giving ROYAL CANIN® real stand out and cut through in such a competitive sector."
*correct at time of time of production