Premier Foods Case Study
DS Smith Retail Marketing has worked with Premier Foods for many years supporting their in-store promotions across all their brands in major grocers and convenience stores.

During the peak Christmas period gaining off shelf space is particularly challenging, and Grocery is often a category which gets over-looked with focus predominantly on confectionary and Beers, Wines and Spirits. However, a number of grocery categories form a key part of the Christmas dinner. Premier Foods challenged us to design a theatrical unit which would:
Celebrate the Christmas event
Disrupt shoppers in a festive way
Win space in store
Showcase a range of key Premier Foods brands which form an essential part of the Christmas meal occasion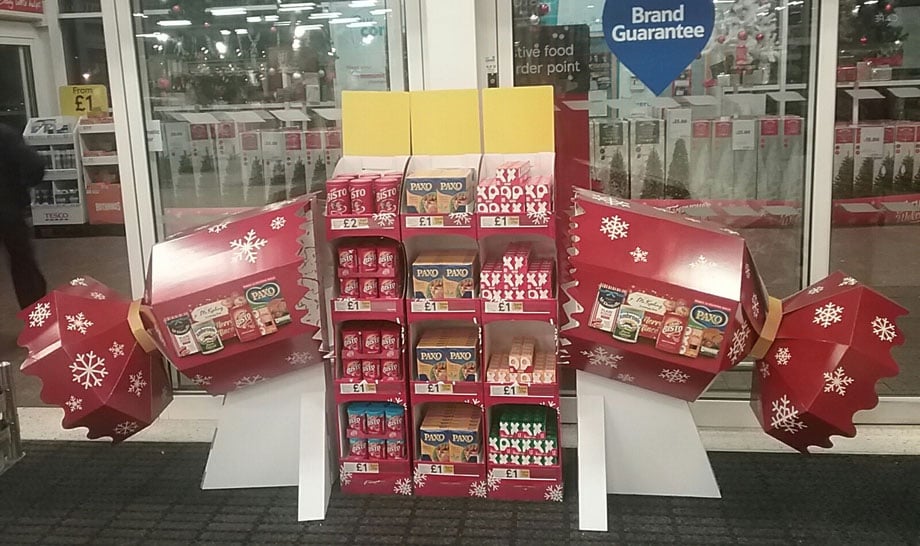 The unit was designed to be highly eye catching and synonymous with the Christmas dinner occasion whilst still allowing stock holding to be maximised depending on the space allocated by retailer – e.g. they could surround pallets or FSDUs.
The cracker itself also provided an opportunity to highlight Premier Foods' key brands and act as a reminder to shoppers to stock their favourite brands at Christmas – research has shown that people are generally willing to trade up at Christmas, making this is an ideal time for Premier Foods' brands to be front of mind above own label.
The unit was successful in securing space in key hot spot areas in the top performing stores of the major multiples - – Premier Foods' goal was to place 10 displays in year 1 as a trial with key customers and flagship stores. All 10 displays were successfully placed during the run up to Christmas and achieved good ROI.
The Christmas cracker delivered an average of £520.30 incremental sales at RSV per store during the 3-week campaign period.