Sweet treat for The Amazing Chocolate Workshop
DS Smith's UK packaging division has partnered with The Amazing Chocolate Workshop, to support the business' vision to take the boundaries of chocolate to a whole new level.

With forty years' combined experience in food production and a love of chocolate, Edward Starr and Damien Toms spotted a gap in the market and founded The Amazing Chocolate Workshop in 2014. The duo create bespoke, high-end chocolate products that resemble everyday objects, from light bulbs and spanners to coffee pots and bottle openers.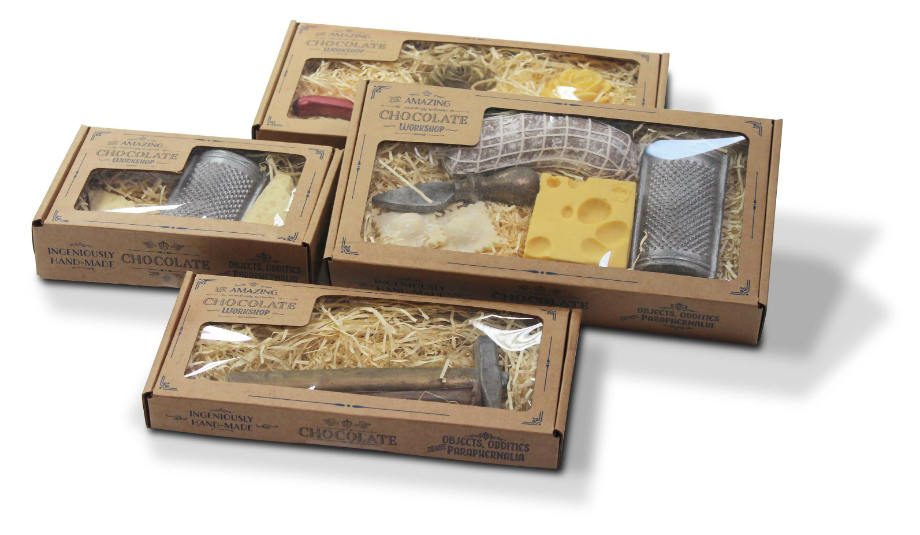 Packaging is crucial for the business as each gift is bespoke, with customers able to choose from a variety of objects in a 'pic n mix' style approach. In addition, the product packaging needs to stand out to customers, providing the wow factor and working as a gift box but also providing adequate protection.
Edward Starr, joint founder and owner of The Amazing Chocolate Workshop, said: "When we were in the early stages of developing the business, we knew packaging would be one of the most important considerations. Not only because the chocolate is so fragile but because it was vital that our customers could view the product through the packaging."
"With our online shop function launching imminently, I can't emphasise enough how important the packaging is to this. It's essential to our business that we have a variety of size and shape boxes that all match our brand identity. We had some quite specific requirements for DS Smith, but they rose to the challenge and developed a final product that we are extremely happy with."
DS Smith's expert packaging team worked with The Amazing Chocolate Workshop to develop a packaging solution that incorporated a very wide window, whilst ensuring that the rest of the box was made out of strong, durable, food safe material.
Mick Thornton, Sales & Marketing Director of DS Smith's UK Packaging Division, said: "This was a really exciting project to work on. The Amazing Chocolate Workshop's products are so creative that it afforded us the opportunity to get imaginative and develop packaging that was equally impressive. "
Mick continued: "We don't just respond to our customers' challenges, we proactively go out to them with new innovations that will help them overcome potential problems and seize opportunities. In this case, the challenge was to develop a box that was an eye-catching design, but that also had the ability to protect a very fragile product."
"We're really pleased with the final result and look forward to working collaboratively with the business in the future."