DS Smith supports The Modern Man with new e-retail pack
DS Smith's UK packaging division has helped The Modern Man create a new secure e-retail pack in support of its recent re-brand.

Internet-based business, The Modern Man, specialises in providing a range of male grooming products and has been building a strong customer base since launching in 2009.
The business has seen significant development in the past couple of years and is now going through a process of rebranding to support future growth ambitions. The brand focuses on providing clients with the highest standard of customer service throughout the delivery process. It was for this reason they looked to DS Smith to design a new e-retail pack which ensures security and protection of the products, whilst maintaining the brands identity.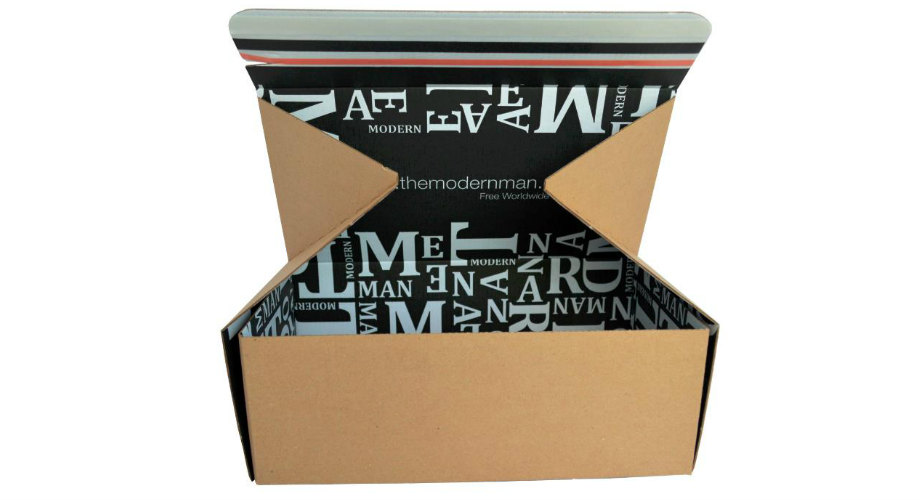 Matt Crowson owner of The Modern Man said: "One of the biggest challenges we've faced is finding a packaging solution that delivers on security and safety of the products, whilst still conveying brand values, at a cost effective price. On top of this, our key audience tend to be busy working professional men who want to receive their products in the right condition, in packaging that is quick to open and easy to access."
DS Smith's expert design team created an e-retail pack that is self-locking, easy to erect and tamper proof. The addition of an easy opening strip also ensures there will be a seamless opening process for customers on the arrival of their package.
Matt added: "As our business is online only, it's really important that our brand values and ethos are transferred from the website through to the delivery process. Packaging plays a huge part in this, so it's great that DS Smith have incorporated our branding on the inside of the box."
The printed inner liner of the box provides the wow factor that The Modern Man is looking for and delivers an added element of surprise and delight for customers when opening their package.
Alan Potts, Market and Product Development Director, of DS Smith, said: "With many of our customers expanding internationally, it is vital that they have 100 per cent faith in the security of their packaging, to withstand the rigours of the supply chain.
"We have created a sophisticated design to ensure the pack is tamper proof, whilst using the latest print technology to deliver the brand experience when customers open the box. Online shoppers have increasingly high expectations, so it is essential we still provide the wow factor to consumers when they receive their goods on their doorstep."