DS Smith Clay Cross given charity award after helping employees become healthier
National charity Heart Research UK has awarded DS Smith's UK Packaging site in Clay Cross, Derbyshire, a prestigious silver Healthy Heart Mark employer award for promoting and encouraging healthier lifestyles amongst its employees.

Heart Research UK's unique Healthy Heart Mark programme recognises employers' efforts to improve staff health and wellbeing by introducing heart-healthy initiatives at work. Businesses can work towards the three certificate levels – bronze, silver and gold – by demonstrating how they're encouraging staff to lead healthier lifestyles.
The packaging company's Clay Cross site achieved the silver award for introducing several physical activities and initiatives supporting heart health. The activities included weekly healthy breakfasts and homemade soup, email free Wednesdays, Pilate classes, stress management workshops, smoking segregation areas, and promoting awareness on the effect smoking has on the body.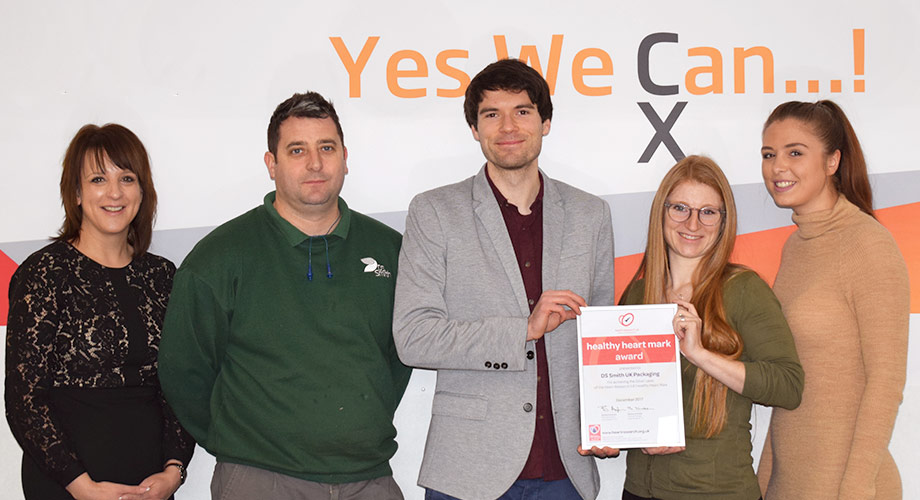 Mike Introna, Managing Director at DS Smith's Clay Cross site, said: "We're very proud to have been awarded the silver Healthy Heart Mark. It's been fantastic to see our employees responding enthusiastically to the initiatives and it's encouraging to see what can be achieved. The programme has kick-started a culture-shift within the company, and is inspiring everyone to pay closer attention to their general health.
Looking after our people is a core value of our business. Heart Research UK's Healthy Heart Mark has given us a chance to give back to our employees and help them towards a healthier way of living."
Barbara Harpham, Chief Executive at Heart Research UK, said: "It's great to see companies like DS Smith continuing to invest in employee health which not only has a positive impact on employee health but on team spirit too. The benefits for companies signing up to our Healthy Heart Mark employer award scheme, in terms of both health and corporate engagement, extend far beyond the factory gates."