DS Smith packs string of awards into 2016
The UK Packaging Division of DS Smith is celebrating a prosperous 2016, after a myriad of packs created for its customers won top accolades at a wide range of industry awards.
Throughout the year, the leading packaging and supply chain strategist has scooped an impressive twenty-nine honours from seven different industry award ceremonies.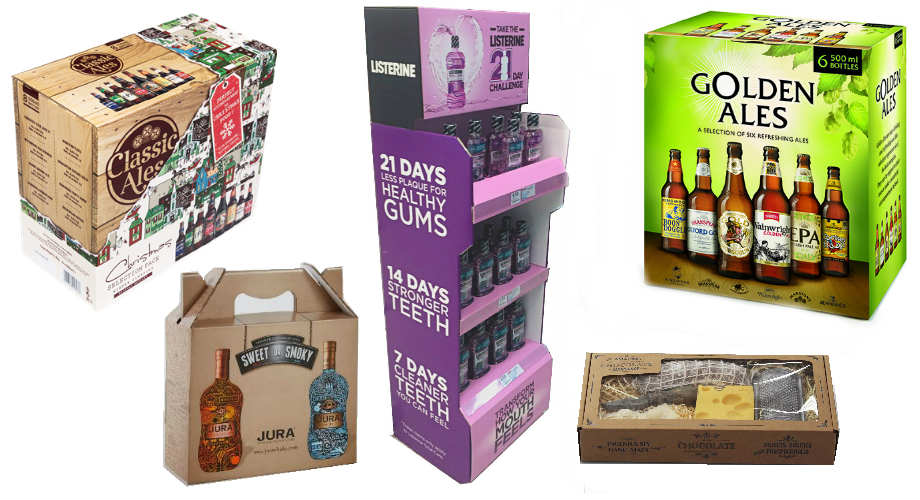 DS Smith won recognition for its print capabilities from three leading organisations- the European Flexographic Industry Association (EFIA), the Flexographic Technical Awards and the Flexotech Awards. A total of 17 honours were awarded across the ceremonies with the winning packs being commended for the challenging print design and technique, and extremely tight colour to colour register.
Efficiency and use of space were some of the key elements cited at the Starpack awards in September, where a total of eight honours were awarded, including the innovative Bumper Pack design for Jaguar Land Rover, which picked up one of the highest accolades, 'Best in show- Business to Business.
The newly strengthened Display Business showcased their latest work at the POPAI awards. The winning displays Johnson & Johnson 21 Day and Morrisons Back to Back Penguin unit where praised by judges for its effective use of message, colour and for delivering strong sales uplift for its customers.
Celebrations continued at the UK Packaging Awards, as the DS Smith team were delighted to collect the Online and Consumer Goods award for the Modern Man epack. The judges said that the pack was "Unique, simple and ingenious. It's not often you see something so well considered", and another commented simply "Awesome".
Mick Thornton, Sales and Marketing Director of DS Smith's UK Packaging Division, said: "We couldn't think of a better way to showcase our capabilities and the skills of our teams across all our UK sites. Being recognised more than a dozen times this year bears testament to their dedication and the work we do for our customers.
"We are an ambitious business, always looking to improve on the results we can achieve for customers by creating impact and ensuring we design, manufacture and deliver the best possible packaging and displays. Innovation is at the heart of everything we do, and we continue to invest in the latest technology to produce great results - awards are proof that this has paid off."
Transit Category
Glazing Vision Packaging Range
Toolspec Shipper for CNH Tractor Components
Gold:Marston's Golden Ales 6pk
Bronze: Charles Wells Bombardier Glorious English Ales pack
Best in show
Flexo Print on Paper - Wide Web
Gold: Golden Ales 6pk
Silver: Plein Sud Orange Juice
Bronze: Star Wars
Flexo Print on Paper - Super Wide Web
Silver: Kronenburg 1664 20x275ml
Bronze: Fosters Gold 20x300ml
Corrugated Post Print - Uncoated Process
Gold: Charles Wells Bombardier Glorious English Ales
Post Print on Folder Gluers - Uncoated
Bronze: Seabrook Lattice 36 pack
Best in show - Business to Business
Jaguar Land Rover Bumper Packaging
Transit Industrial Packaging
Gold: Jaguar Land Rover Bumper Packaging
Bronze: Rumble Pack
Home Delivery Packaging
Bronze: Flowersdirect Vase - Shaped Stand Pack
Silver: Protective Vase Retention Case
Non-Food
Bronze: Flowersdirect Vase - Shaped Stand Pack
Bronze: Bunches Balloon Gift Pack
Point of Sale
Bronze: The Amazing Chocolate Workshop - Luxury Display and Retention Pack
(Creo – Powered by DS Smith)
Pharmacy
Silver: Johnson & Johnson Listerine 21 Day Challenge display
Confectionary Temporary Display
Grocery, Convenience and G.M Temporary display
Bronze: Morrisons Back to Back Penguin display (on behalf of United Biscuits)
Corrugated: Online Retail and Consumer Goods
Modern Man Stretch & Grab ePak
Highly Commended
Protective Vase Retention Case
The Amazing Chocolate Workshop
Bumper Shipper
Sacks and corrugated pre-print liner
Classic Ales Christmas Collection Multipack
Corrugated post-print (E and F flute)
Whyte & Mackay Jura Single Malt Scotch Whisky Sweet or Smoky Pack