Industrial packaging for wine corks
Currently the Portuguese industry is a world leader in the production of wine corks, followed by the Spanish, which ranked second and has the largest volume of production in the communities of Andalusia, Extremadura, Catalonia and Valencia, being especially important in the industry wine for proper conservation of wine and sparkling wine.

A few months ago, our plant in Portugal received the contact from a producer of wine corks in the area, asking for a packaging solution that would improve the packaging process currently used for their wine corks.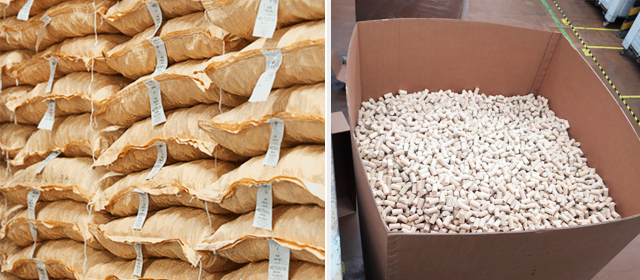 The packaging process of wine corks is common for most producers, a laborious process that requires a lot of time and packaging materials. This consists in manual packing of the wine corks into bags of raffia / plastic, which is subsequently closed well by stitching or gluing the ends.
Once closed all the bags with wine corks are manually positioned on pallets for palletizing for transport / storage.
From the analysis of this type of packaging, we started working on possible solutions to improve the current packaging. All focused to a square / octagonal corrugated cardboard contaner, capable of containing up to 75,000 - 90,000 units of wine corks without deformation of the packaging and that will also have a front opening for discharging the product.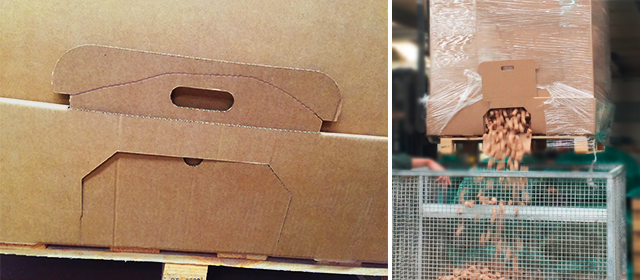 The final packaging solution obtained at Tecnicarton Portugal, consists of a corrugated cardboard box (1220x1150x2500 mm) capable of containing up to 90,000 units without deforming. It includes 2 dispensers in opposite sides of the packaging to reduce discharge times a self-assembly bottom and is suitable for both truck transport and shipping container.

Getting a total cost reduction for our customer, thanks to:

Assembly time reduction

Reduction of material

used

for packing

Optimization of space

during storage and transport

Reducing

discharging times