Interview with Carmen Lara, Director of Human Resources
Carmen Lara is the new head of Human Resources at DS Smith Tecnicarton and assumes a position that brings new challenges due to the company's integration into the DS Smith multinational. This position also includes the activity of the company's 10 plants in Spain, Portugal, France and Morocco. And if this is not enough, the company is in a moment of expansion.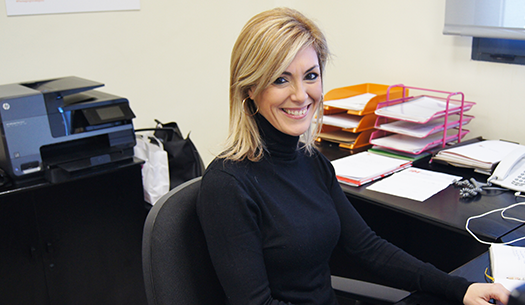 Question: You have recently joined DS Smith Tecnicarton, how did you land on DS Smith Tecnicarton? What did you find?
Answer: I joined Tecnicarton last September, and as every onboarding process takes time... I've found an organization in the middle of a transition process due to the integration with DS Smith.
Question: A company that has 10 scattered workplaces will have a special way of working. How is your day-to-day life to coordinate this area?
Answer: I am currently travelling to the different plants to meet their teams and the particularities of the business in each area. The intention is to work on the implementation of processes and procedures that are sufficiently flexible and that allow optimizing the management of human resources of each plant, relying on a monitoring from the head office.
Question: What are the advantages and disadvantages of this dissemination?
Answer: In terms of advantages, I would highlight the closeness to the customer. Being close to the customer allows us to offer a quick response and better adapt to the needs of the day to day. In short, it favours the generation of business and the optimization of its management. In terms of disadvantages, the complexity of human resources management, as well as the need to work hard "internal communication". It is essential to maintain constant contact with the teams and have presence, in this sense, new technologies such as Skype help us a lot.
Question: What jobs have you done before?
Answer: I have always worked in human resources and generalist positions. I like to have a global view of the human resources function, as for me all areas of the human resources function are interconnected. In terms of sectors, mainly services sector. In this sense, each sector has its own particularity, the key is to know the "value chain" very well, if you know how the business is generated, the basic processes of human resources can adapt to the type of business.
Question: What made you bet on coming to work for DS Smith Tecnicarton?
Answer: The truth is that the project itself seemed a challenge to me as a whole. An organization in a phase of growth, in the process of change due to the integration with DS Smith, the creation of its own HR department, the type of business of the company, a business based on innovation as a sign of identity and, therefore, as a differentiating element and finally, its structure based on disseminated plants. In short, it is a company based on knowledge, and therefore its key is people.
Question: What projects or initiatives do you want to develop in the coming months?
Answer: The roadmap for the coming months is to visit the other plants in Spain, Portugal, France and Tangiers to start working on the short-term needs they have at each site, and in parallel to implement the "Performance Development Review" program.
Question: Among these projects, are there any to strengthen internal communication between the centres themselves?
Answer: Very recently, the Marketing Department has launched a new interactive intranet that allows to create internal forums, upload news, documents... etc. For the Human Resources area, it will be a very useful tool, since it will allow us to make available to the whole Tecnicarton team the projects that are being worked on at both local and corporate level. Therefore, agility and the flow of information will be encouraged.
Question: Among the 10 plants, there are three that are outside the national territory, what peculiarities does working with other countries have for the HR area?
Answer: Among the particularities, it is worth highlighting aspects such as the handling of different labor laws, different tax systems, cultural aspects specific to each country... etc. In this sense, it is necessary to deepen the knowledge of these regulations, as well as to rely on external suppliers to provide adequate advice in matters related to the labor area.
Question: What do you value about the DS Smith Tecnicarton team?
Answer: Fundamentally, it is a young team, loyal to the project, proactive and tenacious.
Question: How would you attract talent to the company?
Answer: Well, to attract talent to DS Smith Tecnicarton, I'd like to work on a number of things, for example:
Training and career development: It is common to find workers who aspire to continue growing in their professional career. In order to retain and attract this type of talent, training programmes that complement the knowledge and skills of employees are necessary. In this way, motivation is maintained and increasingly qualified professionals within the company are available.
Creating a comfortable working environment: A healthy and respectful climate among employees is another factor to be taken into account, both in attracting future candidates and retaining the talent already available in the company. Fostering fellowship, a sense of belonging, recognition and encouragement of the work team can help in this task.
Boosting leadership and trust: A leader is one who motivates and guides his employees. The fact that a company adopts this management model, rather than directing and controlling, has a direct impact on maintaining a communicative, committed and coordinated team. Another key point is trust, which must exist among all workers. Transparency and honesty in communicating decisions, actions or information about the company are aspects that have a direct bearing on this point.
Fostering Employee Engagement: Attracting talent is as interesting as retaining it. Loyalty to people by sharing their business strategy or investing in Corporate Social Responsibility policies is strategic and very effective.