What's in cardboard's future? Smart packaging with self-healing 'skin' that repairs itself
In the 150th year of the ubiquitous cardboard box, packaging experts at sustainability leader DS Smith outlined today a futuristic blueprint for how the box might evolve over the next half century.

Based on trends driven by creative technology, the company's innovators say they can imagine organic, programmable fibers with the ability to self-heal – like our skin – when damaged.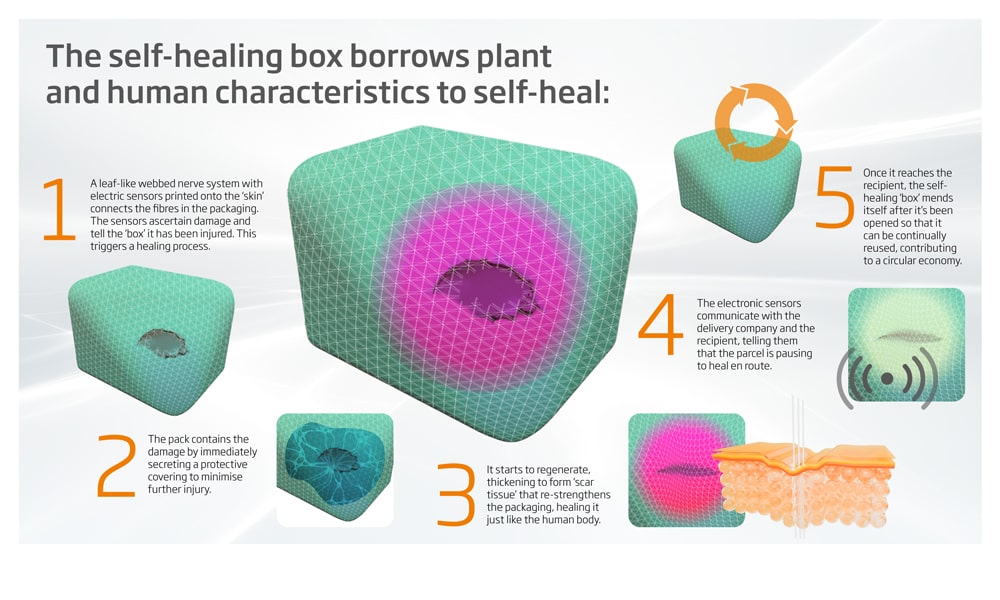 Among the possible characteristics of the self-healing box:
A webbed nerve system that borrows from the composition of leaves: Sensors are printed onto the "skin" of the box and connect all fibers in the packaging so that it can ascertain damage and communicate externally.
Regenerative "scar tissue:" Healing itself just like the human body, the surface stretches and thickens to cover the injury. It then transmits data to the delivery company and the recipient to tell them it is pausing to heal itself en route.
Reuse capability: After it has been opened, the packaging heals the opening of the pack so that it can be continually reused, extending its life.
"We've seen all around us technologies making life easier and more efficient," said Melanie Galloway, vice president, sales, marketing, innovation, DS Smith.
Packaging that heals itself so it can be perpetually reused is, of course, a futuristic concept, but it's rooted in our efforts to design out waste and support the reuse of materials.
"So, a broader a circular economy in which materials stay in use for much longer, may be closer than we think."
In addition to the self-healing box blueprint, innovators at DS Smith also expect to see developments in the fields of self-adjusting parcels and spray-on packaging.
I think we could eventually see intelligent packaging that actually self-adjusts its size to fit its contents, making the absolute most of materials and space.
Galloway said: "The reality is that innovation has made it possible to make boxes water and humidity resistant, protected against harmful bacteria, and trackable throughout their journey with printable nano technology. While self-healing boxes are not here yet, we are looking into the future for the next set of innovations that will help us use materials as sustainably as possible. We will only achieve this with fresh thinking and creative ideas. We're already looking at partnerships to accelerate the journey to a circular economy and would love to hear from experts who can come with us."