Mixed packaging, the perfect combination between the lightness of cardboard and the strength of wood
Mixed packaging is an evolution of the traditional transport boxes made of wood. Its special features make it an ideal packaging for products of large dimensions and weight.

Main advantages of mixed packaging
The mixed packaging is the perfect combination of the wood on the sides with the corrugated cardboard body, achieving a lighter product without losing the solidity thanks to the wood reinforcement.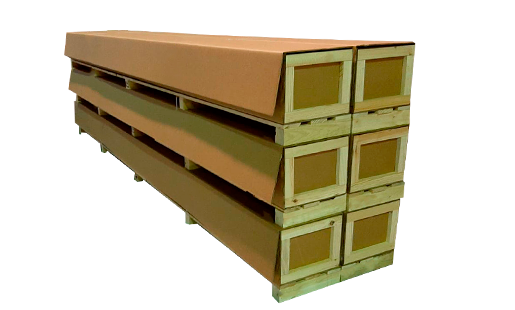 Customisation according to the needs of the customers is another of its great characteristics. These packages are versatile in terms of their application, and can be customised inside to directly influence the reduction in volume of the package, or the body can be reinforced with wooden bridges to make the solution more robust.
In addition, they are optimised for transport and storage, since thanks to their robustness, these packages can be stacked and palletised without losing their shape or damaging their contents. They are also designed for comfortable and safe long-distance transport. To this end, in addition to interior customisation, the exterior can also be customised, with the possibility of adding handles and locks for optimum transport, or front or side openings, among others.
From DS Smith Tecnicarton we can deliver these packages pre-assembled (possibility of JIT) and even assemble the packages at your facilities with the In House service. In addition, they are available in very small production lots, allowing a reduction in logistics costs.
Sustainability at the heart of our strategy
At DS Smith Tecnicarton we are committed to quality and the environment. We specialise in providing complete industrial packaging solutions designed to be material-neutral and tailored to our customers' industrial products, while being environmentally responsible.
Within the framework of our new sustainability strategy 'Now and Next', we continue to optimise the use of resources in each new development. To this end, we obtain 100% of resources from responsible sources to combat deforestation, using recycled materials or from a certified chain of custody.