Conductive packaging, an ally of electronic products
Conductive or antistatic packaging is a type of packaging that minimizes the total static charge of especially sensitive electronic products

Electronic components require extra protection for their shipment or storage, so having bags, boxes or trays that derive the electrical charges from the surface of the packaging is essential. A conductive packaging always protects against Sun charges and electrostatic fields.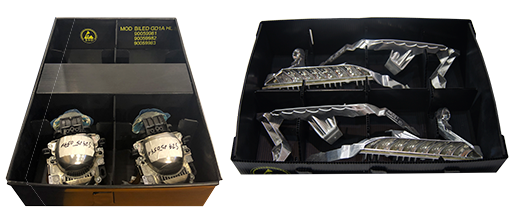 Even the smallest electrostatic discharge (ESD) can lead to defects and can shorten the life of electronic components. Therefore, it is advisable to always use ESD packaging for electronic goods.
Electrostatic discharge destroys sensitive electronic components and can even inadvertently shorten their life. In this sense, selecting the wrong packaging can be a serious mistake.
At DS Smith Tecnicarton we offer a wide range of effective protection for electronic components with the aim that recipients receive their electronic objects safely. In addition, our ESD packaging is very effective in protecting parts throughout the production chain: storage, transport, assembly line ...
Conductive packaging solutions
- Conductive cardboard tray. The trays are made to measure for the parts to be transported so that they have a perfect accommodation that avoids breakage, scratches and unnecessary movements throughout the supply chain. To do this, we offer the client different thicknesses and materials depending on their needs. All of them have the Carbon Black additive that makes them appropriate to safely contain any type of ESD product.
- Trays in conductive EPP (Expanded Polypropylene). Those molded in EPP have a great capacity to absorb impacts and are very light as well as resistant.
- Trays in conductive PP (polypropylene). They are totally tailored for the transport, storage and supply to the parts line. An alternative to injected packaging, without the need to use molds for its production. They have positioners and spacers made of conductive polypropylene, designed so that they can incorporate the maximum number of pieces per package and can go directly to the assembly line and be integrated into Lean programs.
- Conductive thermoformed trays. These are stackable when full and can be emptied to save as much space as possible.
- Cardboard packaging conditioned with expanded polyethylene foam. Interiors custom designed for the product and in different conductive materials, to guarantee the protection of your product against shocks, impacts and vibrations. They are valid for any type of packaging: cardboard boxes, metal structures, bacs, trays ...
- Plastic tray packed with expanded polyethylene foam. Conductive foam conditioners to ensure maximum protection of your product against shocks, impacts and vibrations that it receives throughout the supply chain.
-We also have different plastic bubble bags, film ... conductive and armored in different qualities and sizes.
- Likewise, we also work with conductive textile with which we condition the interior of ESD trays and containers.
Having conductive packaging always guarantees the perfect protection of electronic parts, their perfect operation and avoids failures due to degradation.