DS Smith Tecnicarton will present its automotive solutions at the Tangier Subcontracting Exhibition
The meeting will take place from 25 to 27 September and the aim is to bring suppliers and manufacturers closer to the latest innovations in industrial packaging
Tecnicarton will present its multimaterial proposals that allow customizing the packaging both to adapt them to the pieces they are going to transport and depending on the traffic they are going to experience.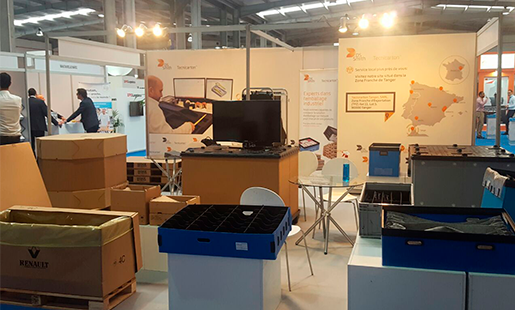 DS Smith Tecnicarton will once again present its automotive solutions at the sixth edition of the Automobile Subcontracting Exhibition, which will take place in Tangier (Morocco) from 25 to 27 September.
The annual meeting of subcontractors in the Moroccan automotive sector is organized by the Moroccan Association of Automobile Industry and Manufacture (Amica) and on this occasion has as its theme: "Automobile subcontracting: a lever for sustainable growth".
With the aim of bringing suppliers and manufacturers closer together, the solutions in industrial packaging, DS Smith Tecnicarton will present its multi-material proposals that allow packaging to be personalised both to adapt them to the parts they are going to transport and to the traffic they are going to experience. With the multi-material solutions, both rigid and flexible internal fittings are incorporated to protect the parts.
For this occasion, the protagonists will be handling solutions with different types of packaging: bacs, thermoformed trays, foam solutions... but above all the foldable plastic containers that allow transit between plants.
Tecnicarton will also be exhibiting various models of cardboard packaging at the Tangier event. Among them the Galia boxes, approved for the automotive sector, or the folding kits, specific solutions for export.

The aim of Tecnicarton's presence at this meeting is to foster collaboration with companies in the automotive sector, a sector to which more than 50 percent of its production is directed.
One of the competitive advantages of DS Smith Tecnicarton is its Design Center, which allows close attention and collaboration between Tecnicarton and its customers when undertaking new projects. This Design Centre, which depends on the R+D+i centre located at the company's headquarters in Almussafes (Valencia), is a guarantee for Tecnicarton's customers that its solutions will be perfectly adapted to the requirements demanded by the automotive industry and to the specific needs of the Tangier plant. This Design Centre has plotting capacity and a textile handling centre to develop projects requiring interior fittings.