Automotive Packaging Solutions
At Tecnicarton, the design of packaging for the automotive industry accounts for more than 60% of our sales. Therefore, as experts in the sector, we are aware that each piece requires customised packaging adapted to your needs

When we talk about industrial packaging we are talking about a type of packaging designed and manufactured with the appropriate materials to offer optimum product protection depending on size, weight, shape and special characteristics.
In the case of automotive packaging, an essential factor is that the packaging is strong enough and resistant enough to protect the pieces against possible blows, marks or friction that they may suffer during transport, bearing in mind that each one of these pieces has to be manufactured, transported and assembled guaranteeing 100% quality.
At Tecnicarton, the design of packaging for the automotive industry accounts for almost 70% of our sales, which is why, as experts in packaging for this sector, we are aware that each piece requires different treatment and, therefore, packaging that adapts to the needs of each one of them.
Design and innovation are key and, in this sense, our R+D+i centre brings together Research, Development and Innovation activities and coordinates the search for new packaging materials, new applications and new manufacturing processes so that it is subsequently subjected to previews, tests and analysis before reaching final development.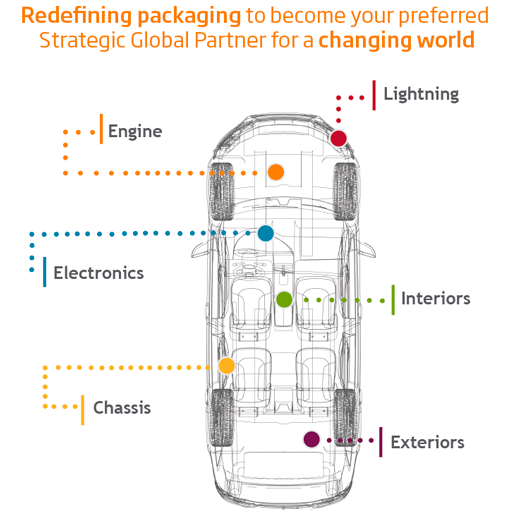 Automotive Packaging Solutions
- Cellular polypropylene boxes, designed 100% to measure each piece and manufactured in different sizes and qualities, presented as an alternative to injected packaging, without the need to use molds for production.
- Returnable, foldable and recyclable plastic containers, totally customizable and that allow a reduction of up to 80% of their volume in the folding, guaranteeing cost savings both in transport and in the processes and an optimization of space.
-Metal packaging solutions: metal racks with interior conditioning and stackable and Lean Trains, with wheels and attachable to each other so that a forklift can easily move them and the packaging goes directly to the assembly line.
- Thermoformed trays: stackable when full and snap-in when empty and designed for parts to be transported without any unnecessary breakage, scratching or movement along the supply chain.
- Heavy Duty Packaging: made of corrugated cardboard or multimaterial, which protects and fixes the pieces to be received in perfect conditions at their destination.
Whatever the part of the car to be packed, in Tecnicarton we advise and offer solutions and alternatives that allow us to offer the packaging that best suits your product.