Morocco continues to be a strategic market for DS Smith Tecnicarton
This is confirmed by its presence, for the fifth consecutive year, at the next edition of the Fair organised by the Moroccan Association of Automotive Trade and Industry (AMICA), Tanger Free Zone, Renault Morocco, Peugeot Citroën Automobile, Atlantic Free Zone and AIZFET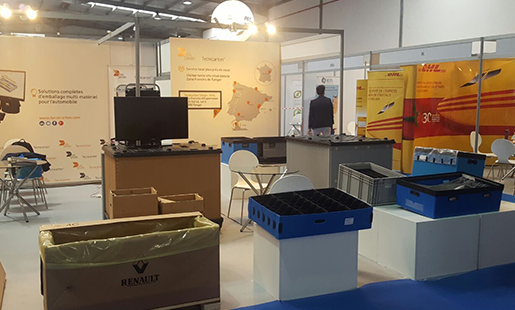 On this occasion, the Automobile Subcontracting Fair will be held between 25 and 27 April and Tecnicarton will be at stand 228.
For this event, the multinational packaging company will present the most appropriate solutions for the automobile sector, given that this event is focused on the needs of the sector, strongly based in the free zone and led by Renault.
Multi-material packaging:
With the aim of bringing industrial packaging solutions closer to suppliers and manufacturers themselves, DS Smith Tecnicarton will present its proposals in multi-materials that allow packaging to be personalised both to suit the parts to be transported and to personalise them according to the transit they are going to experience. With the multi-material packaging, both rigid and flexible interior fittings are incorporated to protect the parts.
For this occasion, handling packaging and plastic containers will also be on display to allow transit between plants. Cardboard containers with multi-material packaging will have a designated space, as this is one of the products best developed by Tecnicarton. This section includes the packaging for vehicle dashboards that allows access to the assembly line. This packaging, which includes a pallet and facilitates the assembly of the dashboards, received last year the IPA Award for Innovation in the Miscellaneous section.
Tecnicarton will also be exhibiting various models of flexible packaging, as well as automotive standards, at the Tangier event. Since many of the parts to be assembled in Tangier come from plants in other countries, Tecnicarton will also take this situation into account and show its offer in export packaging.
Competitive advantage:
One of the competitive advantages of DS Smith Tecnicarton is its Design Centre at the Tangier plant, which allows for close attention and collaboration between Tecnicarton and its customers when undertaking new projects. This design centre, which depends on the R&D&I centre located at the company's headquarters in Almussafes (Valencia), is a guarantee for Tecnicarton's customers that its solutions will be perfectly adapted to the requirements demanded by the automotive industry and to the specific needs of the plants in Tangiers. This design centre has a plotting capacity and has a textile handling centre to develop projects requiring interior fittings.