Interview with José Tomás, Industrial Manager of DS Smith Tecnicarton
Our greatest commitment is that our people return home safe and sound every day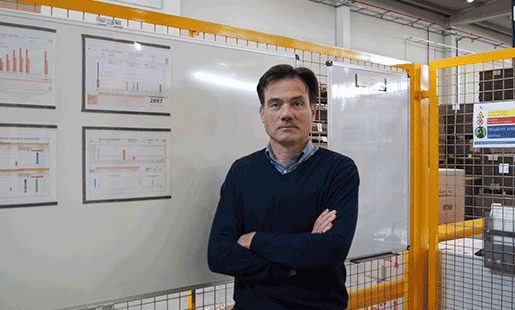 José Tomás, an industrial engineer, is currently in charge of the Industrial Area at DS Smith Tecnicarton. He has worked in several companies related to the automotive sector and always linked to the industrial, manufacturing and development. His last job before joining DS Smith Tecnicarton was at SICE. With the different movements of companies, the management of the then Tecnicarton decided to incorporate José Tomás to the discipline of the company and undertake the integration in the British multinational DS Smith.
Question: What has been your journey to DS Smith Tecnicarton?
Answer: I came to Tecnicarton over 3 years ago, in July 2014, to take over the entire industrial part, as Director of Operations. Prior to that, he had worked in the Lantero group at the Villagarcía and SICE plants in similar positions. When Grupo Lantero made the decision to sell SICE, the management of Tecnicarton trusted me for this position.
Question: What responsibilities do you have today?
Answer: Right now I am in charge of the entire Industrial area. This includes the Quality, IT and Process Development and Improvement departments, as well as functionally the Planning and Production departments of all our plants. I also coordinate certain purchasing issues that we consider more strategic for the company.
Question: Since you have been here, what are the most important projects that have been developed in the areas for which you are responsible?
Answer: In an initial phase, our team has trained and implemented Lean techniques in all our factories. We have also certified some plants to certain standards that have been considered important, depending on the markets we serve.
The most important project, however, over the years has been the integration into the DS Smith Group.
From my department we have coordinated this integration and thus we have relieved the plants of this work so that they could continue producing and developing projects.
And another great job we have done is to improve safety levels in our factories. Although the safety culture at Tecnicarton was already well established, the integration into DS Smith is taking us a step further and improving this important facet even further. We must all be aware that our greatest commitment must be that all our people return home safe and sound each day to their families.
Question: How has DS Smith's integration been managed from your area of responsibility?
Answer: As Tecnicarton was already a group in its own right, we at the plant took on the responsibility of integration in order to let the plants continue their production process. At the Almussafes plant we have supported this work and in this way have allowed the plants not to be affected.
Question: Once the integration into DS Smith is complete and with the high levels of job security you have, what project are you working on now?
Answer: We are currently very focused on a demand for our plants, which is the implementation of a new Production Control. It is a system that has been developed by our own IT department and makes everything related to work orders and production area management much easier. This system allows us to know the traceability of the materials in a simpler way for the operators and to have total control of our stock of materials on-line. And soon I hope we can relaunch the work of implementing Continuous Improvement and Lean Manufacturing techniques. This will help us to improve our internal efficiency and market positioning.