Women's Day: 26% of the DS Smith Tecnicarton team are women
From DS Smith Tecnicarton today, March 8, we want to join in the celebration and visibility of women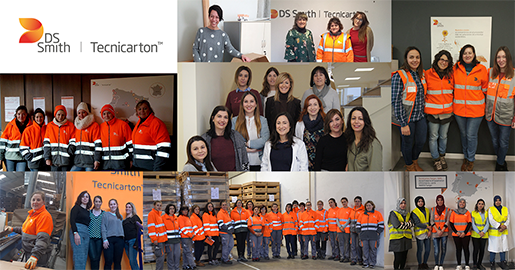 And in our case we can do it with the data of our company where women hold positions of responsibility and are in all areas of the company.
DS Smith Tecnicarton has 10 plants and a total of 228 employees. Of these, 26% are women. The most positive thing about this figure is not so much the number, but the fact that women hold various positions of responsibility and are in all areas of the company. From our Director of Human Resources, Communications or Head of Administration... to the plant. The presence of women in our organization is in all departments. In R+D+i we have two colleagues, as in the commercial department. And if the industrial sector seems restricted to men, in our company we have 27 women working in the factory. There are also women in logistics, projects, management and administration systems.
We do not want to dwell on the fact that our percentage is higher or lower. On the contrary, today we want to highlight the fact that we are in a company where women are the protagonists, where their professional career has no limits and where all employees and collaborators are treated in the same way. And it's not just us. We take this opportunity to recall the words of our colleague, Patricia Mirasol from the technical department, who has already advanced the advantages of a company where each employee has all the doors open for personal and professional promotion.
Perhaps, change does not come from the great appeals or the great events, but from the attitude and individual actions that each one develops in his environment. And if this is the case, at DS Smith Tecnicarton we are working in our environment to build a society with equal opportunities for men and women.