DS Smith Tecnicarton will present its latest innovations in industrial packaging at EMPACK2018
The company highlights the presence of Tower Rack, a hybrid between industrial packaging, shelving and line supply packaging.
DS Smith Tecnicarton will be present at EMPACK2018, which is held in Madrid on 12 and 13 November, to showcase its latest innovations in industrial packaging. The company will be located in booth D28 where multiple packaging solutions, representative of the variety of designs that can be developed, can be seen.
The presence of Tower Rack®, the most important launch in 2018 and one of its latest innovative works for the automotive sector, stands out on this occasion. It is a concept that simultaneously covers the needs of several areas of the supply chain: packaging, warehousing and on- line supply.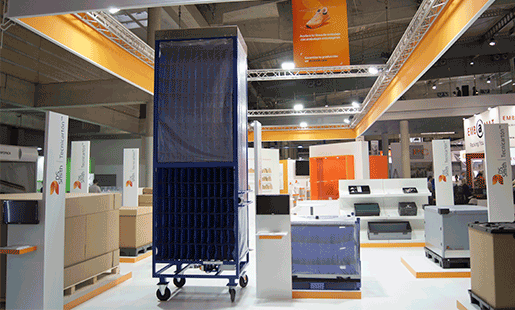 Tower Rack® is a metal structure whose height of 4 metres tries to bring all the necessary parts closer to the operators and to optimise the space on the assembly line as it avoids fixed shelves, pallets... It also minimises warehouse space as this portable tower moves around the factory supplying parts. It can be moved in the supply chain manually, by Lean trains or even in Autonomous Guided Vehicles (AGVs), allowing absolute monitoring of your transit. In addition, Tower Rack® increases on-line productivity by allowing fewer supply units.
One of the most outstanding aspects of this innovation is its mobile internal conditioning system. A manual or electric device allows the cells to be moved vertically to facilitate access, ergonomics and safety for the operators. It improves occupational safety as the operator does not move in search of parts, but rather the storage system itself comes to the production line. The reduction of transit movements through the production plant reduces the possibility of accidents at work.
Also designed for the automotive sector, DS Smith Tecnicarton will present a metal packaging specially designed for the transport of airbags. In addition, it will show theTecnipack® system with flexible packaging and the bulk packaging, both solid and liquid, Tecnitank and Octabin.
Different handling packaging solutions such as thermoformed trays, bacs conditioned with different materials or foam solutions will also be exhibited. And different developments of the company in cardboard with customized multimaterial packaging will be presented.
As Alicia Correa, the company's communications manager, explains, "DS Smith Tecnicarton's differentiating factor is our specialisation in complete solutions designed in a multi-material and tailor-made way and aimed at different points in the supply chain. All the innovations we bring to EMPACK2018 are an example of this and of how we can address any need our customers may have for us in a completely customized way," he adds.