DS Smith Survey Reveals Pandemic Embrace of Recycling and Sustainability
Many consumers want more sustainable boxes, easier access to recycling.

A pandemic-induced surge in e-commerce has left shoppers with more boxes than ever before, triggering a rush by consumers to embrace recycling and raising the demand for sustainable packaging. But while there's more interest in sustainability – especially among millennials – many buyers say they're frustrated by the amount of unrecyclable material showing up and the lack of easy access to local recycling sites.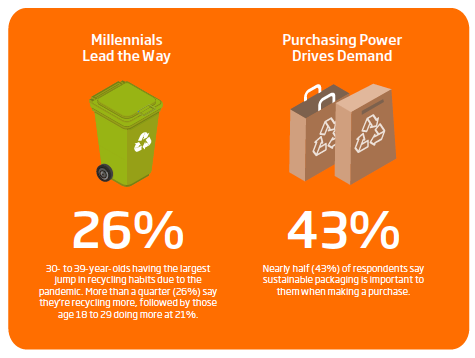 Those are among the major findings of a national survey by DS Smith, a leading paper and packaging company that focuses on creating innovative and sustainable packaging solutions.
A previous DS Smith survey shows 44% of respondents report getting more deliveries during the COVID-19 pandemic. The latest results validate DS Smith's work in producing more sustainable products for its business customers. An overwhelming 83% of consumers surveyed say the packages they receive aren't fully recyclable because they contain other materials like plastic or Styrofoam. Only 17% report getting all-recyclable packages.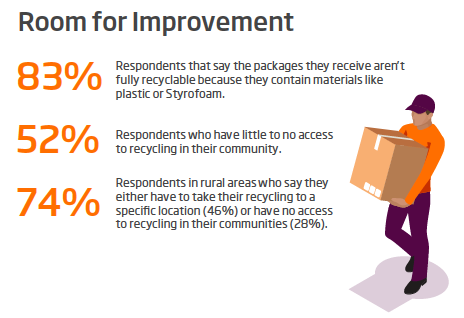 The survey, taken last month, revealed dramatic home and lifestyle changes, with 30- to 39-year-olds having the largest jump in recycling habits due to the pandemic. More than a quarter (26%) say they're recycling more, followed by those age 18 to 29 doing more at 21%.
"DS Smith provides sustainable packaging for its customers with the goal of leading the transition to the circular economy," said Mark Ushpol, managing director of packaging at DS Smith. "Recycling is an important piece of that process, and with the rapid growth of e-commerce putting more boxes into homes than ever before, it's encouraging to see this shift in consumer behavior toward recycling more."
DS Smith is working to combat the deluge of unrecyclable packaging plaguing consumers by using its Circular Design Principles, developed and launched last year alongside the Ellen MacArthur Foundation, to eliminate waste from its packaging in the early design stages.
These results also come after DS Smith's recent announcement that it has embedded its pioneering Circular Design Metrics across all its packaging sites. In an industry first, DS Smith can now measure and quantify the sustainability performance of each of its packaging designs across eight key indicators: carbon footprint, design for reuse, supply chain optimization, recyclability, planet safety, material utilization, renewable source and recycled content.
In an important, pro-environment signal, nearly half (48%) of respondents would describe the recycling in their local community as highly accessible, with recycling being picked up from their house.
But there's still work to be done, with 35% reporting they have to take their recycling to a specified location. And 17% say they don't have any access to recycling in their community.
That's especially common in rural areas, with 74% of respondents there saying they either have to take their recycling to a specific location (46%) or have no access to recycling in their communities (28%).
In a positive, pro-environment signal:
Almost two thirds (61%) of respondents say they don't face any barriers to recycling.
Baby Boomers are the most likely to recycle, with 74% of those surveyed saying they always recycle.
By type of residence area, those in suburban areas are most likely to recycle at 64%.
Nearly three quarters (73%) say they are comfortable making decisions on purchasing sustainable products.
To combat consumer concerns over recycling, DS Smith continues to create packaging with sustainability in mind, designing out waste and advocating for the reuse of materials to support the circular economy.
The Circular Economy is at the heart of DS Smith's Now and Next strategy, focusing on closing the loop through better design, protecting natural resources by making the most of every fiber through circular solutions and equipping people to lead the transition to a circular economy.
By 2023, DS Smith will manufacture 100% reusable or recyclable packaging and its aim is that by 2030, all its packaging will be recycled or reused.
Methodology
The survey of 1,000 U.S. adults, conducted online Sept. 24-27, has a margin of error of plus or minus 3.1 percentage points.