DS Smith rises in the Dow Jones Sustainability Index
New score demonstrates commitment to purpose of 'Redefining Packaging for a Changing World' and recognition of leadership in the field of sustainability.

This month, the 2020 Dow Jones Sustainability Index assessment (DJSI) results were announced, the benchmark for sustainability practices across the world.
The DJSI is based on the Corporate Sustainability Assessment, which is an annual evaluation of companies' sustainability performances.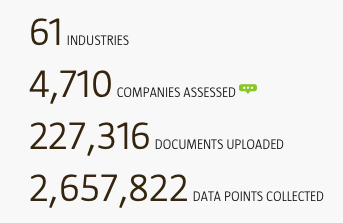 In the past year DS Smith has risen eleven points from 40 to 51, rising to the 65th percentile, significantly ahead of the packaging industry average of 41.
As a business DS Smith also scored 100% in the areas of sustainable product benefits and design criteria, environmental reporting, climate change strategy and corporate governance.
DS Smith's Head of Sustainability, Wouter van Tol, said: "We're so excited to have risen in the DJSI's ranking's this year. Their index offers invaluable information to our stakeholders who are wanting to see evidence of DS Smith continuing to lead the way in sustainability. It provides concrete proof that the initiatives put in place over the past year are taking effect. With the launch of our Now and Next sustainability strategy in September, we hope we continue to see a rise in the ranks, as we grow our leadership position."
Wouter added, "We want to thank all employees and in particular, colleagues who contributed their expertise and knowledge this Spring to the assessment. We continue to submit to a range of reputable ESG and Sustainability rankings, highlighting our strengths and weaknesses. This will help us reflect and continue to develop our weaker areas which includes improving how we report social metrics."