DS Smith New Castle receives coveted Yum! Brands Supplier Award
DS Smith North America Paper and Packaging's New Castle facility received the prestigious Yum! Brands Star Award from Pizza Hut during its recent annual supplier convention.

The Star Award recognizes excellence from key suppliers throughout the Yum! Brands organization (Pizza Hut, KFC and Taco Bell). With over 28,000 restaurants, Yum! Brands is the largest restaurant chain in the United States.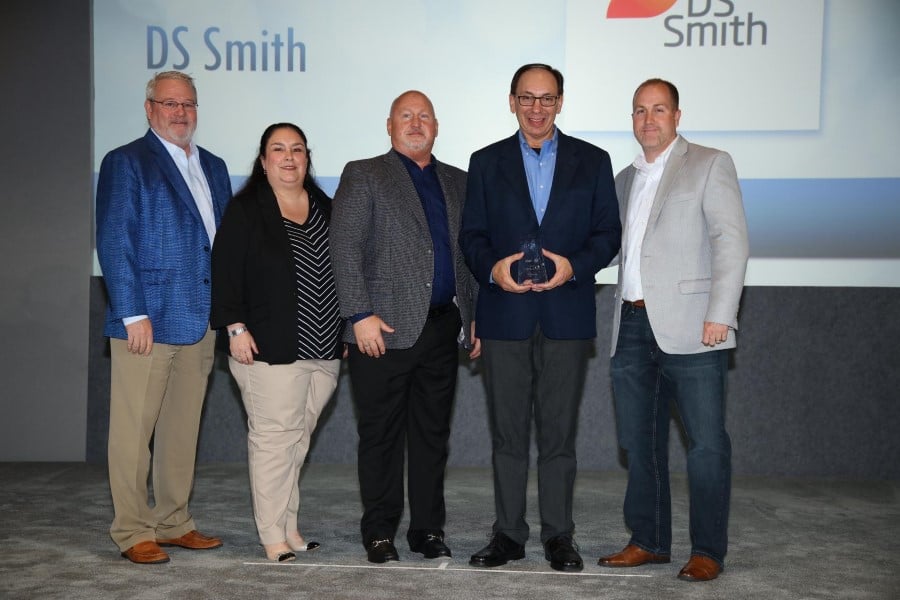 Accepting the Yum! Brands Star Award, from left: Jim Morgan (President and CEO, DS Smith North America Packaging and Paper), Joelle Johnson (Senior Director of Pizza Hut Concept Management), David McCracken (Regional General Manager, DS Smith North America Packaging and Paper), Tim Spatara (Sales Account Manager, DS Smith North American Packaging and Paper) and Cory Barker (Senior Purchasing Manager Packaging Procurement for YUM! Brands) accepting the YUM! Brands STAR Award as the Pizza Hut Packaging Supplier of the Year on behalf DS Smith Packaging New Castle, PA.
DS Smith began its relationship with Pizza Hut in 2017 as a supplier of a food safe, florochemical-free paper liner used in delivery boxes at over 7,000 Pizza Hut locations. The liner creates an air pocket with ribs, forming an insulated air pocket that helps Pizza Hut reach its goal of delivering pizzas 15 degrees hotter to the customer, while reducing surface contact with the crust and reducing oil leaking through the box.
"This prestigious award is the equivalent of the Oscars for Yum! Brands, and we're thrilled to have been chosen," adds Tim Spatara (Sales Account Manager, DS Smith North America Packaging and Paper). "Yum! Brands has many outstanding packaging suppliers, but we may be one of the few who won an award in their first year of supplying. Our New Castle team really went above and beyond the call of duty to make this happen - I couldn't be happier accepting for them."