DS Smith calls for shoppers to love the planet this Valentine's Day
With up to 1 billion cards (1) sent around the world every year, Valentine's Day is the second-biggest seasonal card-sending holiday after Christmas. To make sure that the mid-February spike in gifts and greeting cards doesn't impact on the recyclability of other materials due to glitter or other contaminants ending up in residents' recycling collections, DS Smith is encouraging shoppers to make more sustainable decisions this Valentine's Day.
Did you now?
Number of cards sent around the world every year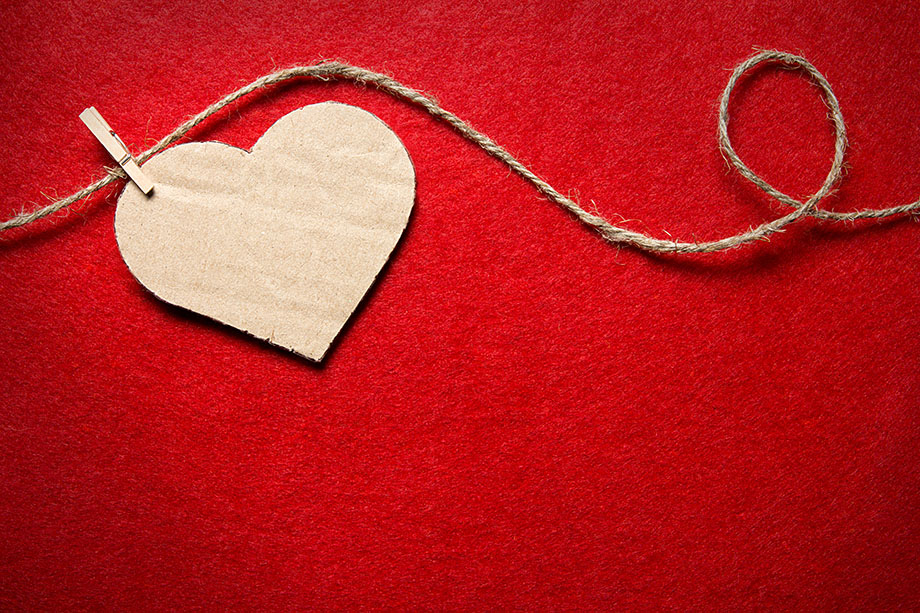 Go glitter-free to improve card recyclability
As well as prioritising presents that come in recyclable or reusable packaging, shoppers can play their part by choosing cards that express their love for the planet, as well as their partners. Glitter is a contaminant in the paper recycling process, and can prevent card and paper from being recycled. As a result, non-glittery cards will help to ensure that residents' paper and cardboard, when collected for recycling, is actually recycled in paper mills.
If glittery cards reach paper mills, the glitter is such a small part of a cardboard bale that it's very hard to detect at the beginning of the process.
Jonathan Scott, Operations Manager for Recycling at DS Smith Paper, said:
Glitter can give us problems if we receive large quantities in the recovered paper we use for recycling, which is most likely to happen after Christmas or Valentine's Day. Although glitter is great for catching the eye, the particles, which are often made of plastic or foil, are so tiny that they can pass through the recycling process and end up in the paper we make, which is intended for use in high quality packaging.
He added: "Glitter is sometimes only discovered in our paper once the paper has already been made, either through our online high-speed camera system or visual quality control checks on the paper. Even a small amount of unwanted sparkle is undesirable for our customers, so it can result in paper being rejected, which wastes energy and resources."
Keep your romantic meals free from food waste
Try to avoid food waste on Valentine's Day
Tonnes of food that is lost or wasted annually
According to the Food and Agriculture Organisation of the United Nations (2), roughly 1.3 billion tonnes of food is lost or wasted annually – around one-third of everything grown for people to eat each year. So whether you're heading out for a candlelit dinner, or going for low-key romance by staying at home on Valentine's Day, try to avoid creating food waste.
Where you can, when dealing with food waste at home, you should also ensure there's no food on other materials you're putting out for recycling. Take advantage of separate food waste collections if you have them, and ensure there's no food on any plastics, glass, cardboard, or paper – food waste is a particularly challenging contaminant in paper recycling processes.
Recycling your e-commerce packaging
Another way to make sustainable choices this Valentine's Day is to ensure that you separate and recycle any recyclable packaging materials that end up coming home with you. Whether you're shopping online or in-store, you can contribute to Europe's world-record paper recycling rate of 72% (3) by ensuring that any cardboard packaging ends up in the right recycling bin. It also helps to separate paper and card from other materials, such as plastic, wherever possible.
Look up the recycling rules where you live, and ensure you're putting any recyclable plastic, paper, cardboard, or glass into the right bin. By separating any foil or plastic from cardboard, and by ensuring your materials are free from food waste, you can help ensure it's recycled as intended, rather than risking it being sent to incineration or landfill.
Packaging companies, retailers, consumers, and the recycling industry can all work together to make sure that these seasonal celebrations, as well as retail in general, are as sustainable as possible. Through our Box to Box in 14 Days closed loop, DS Smith can ensure that greeting cards and packaging are back on supermarket shelves as cardboard boxes within just two weeks. So if consumers choose cards and packaging that can be recycled, we can all work together to alleviate the pressure on our planet's limited resources.