Lord Mandelson visits Kemsley Mill's "fully circular business model"
Miles Roberts, CEO of DS Smith, welcomed Lord Peter Mandelson and two colleagues to Kemsley Paper Mill on Tuesday 9th October to showcase DS Smith's world-class paper-making operations.
Lord Mandelson and Mr Roberts were joined on their visit by Ben Jennings, Mill Manager of Kemsley; Guy Lacey, Next Generation Technology Director; and Peter Clayson, General Manager for External Affairs, whose presentations highlighted the need for high quality paper for recycling as a raw material for Kemsley's papermaking processes. Kemsley Mill is the UK's largest paper recycling mill, and the second largest in Europe, reprocessing over 900,000 tonnes of paper every year.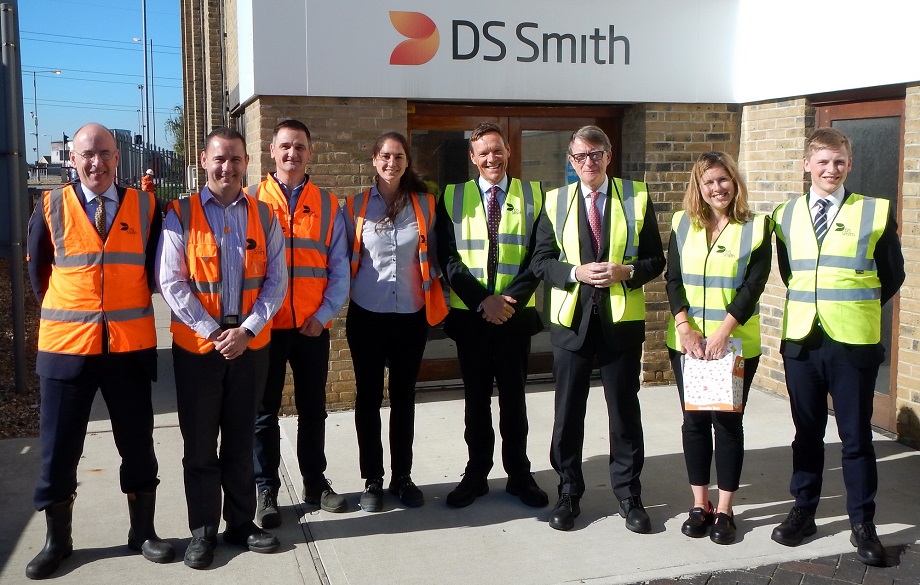 Lord Mandelson then toured Kemsley's sustainability developments, including the on-site anaerobic digestion plant, energy from waste facility, and the preparations for a new CHP plant, all of which support the mill in becoming more energy efficient, in line with the Group's target to reduce its CO2e per tonne of production by 30% by 2030.
He commented: "I was very impressed with how sustainability is integral to every aspect of DS Smith's production process, from the collection of waste, to recycling and reprocessing, to the production of clean energy from by-products – it is a fully circular business model. They are an excellent example for other businesses looking at how to transform their operations to engage more fully in the circular economy."
Lord Mandelson is Global Counsel's Chairman and co-founder. He is a former European Trade Commissioner and British First Secretary of State, and a member of the House of Lords. As Trade Commissioner between 2004 and 2008, he negotiated trade agreements with many countries and led European negotiations in the WTO Doha World Trade Round.
Prior to this, he held a number of Cabinet posts under Tony Blair and Gordon Brown, including Secretary of State for Trade and Industry, Northern Ireland Secretary and Secretary of State for Business, Innovation and Skills. He was Member of Parliament for Hartlepool in the UK from 1992 until 2004 and Director of Campaigns and Communications for the Labour party between 1985 and 1990.
As well as Chairman of Global Counsel, Lord Mandelson is Senior Adviser to Lazard and an independent director of Global Ports Holding. He is President of the German-British Forum, the UK's primary bilateral forum for promoting dialogue on German-British business, social and political issues and President of the Great Britain China Centre. He also holds the role of Chairman of the Design Museum in London and Chancellor of Manchester Metropolitan University. He is also President of Policy Network.