Robert Jenrick MP visits DS Smith Logistics
Robert Jenrick MP, Exchequer Secretary to the Treasury, visited DS Smith's logistics facility in Tuxford on 24 May 2019.
Alongside having a tour of the facility, we took the opportunity to present Mr Jenrick with an overview of our circular business model. Our Packaging, Paper and Recycling operations see us collect, recycle and re-create a cardboard box in just 14 days. Head of Government and Community Affairs, Peter Clayson, focused on the importance of transitioning to a circular economy following DS Smith's recent announcement of a Global Partnership with the Ellen MacArthur Foundation.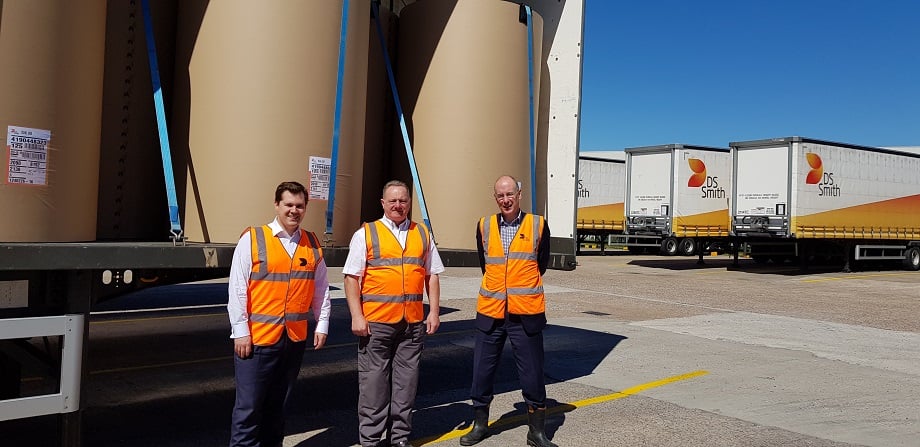 Insights were also provided on how the implementation of a Plastic Tax would encourage the use of recycled plastic and stimulate investment in the UK recycling infrastructure. DS Smith presented new research that highlights 1.5 million tonnes of plastic could be replaced by fibre-based products each year from just five areas within supermarkets across Europe.
The circular economy is a key focus for DS Smith. It is something we are both passionate about and committed to investing in. We are excited to have partnered with the Ellen MacArthur Foundation to continue our drive for circular innovation, which will have an impact across the communities in which we operate. We welcome to opportunity to discuss policy issues with key policy makers whilst also highlighting the work we do in the local community.

— Peter Clayson, Head of Government and Community Affairs at DS Smith
Robert Jenrick MP, who also holds the position of Exchequer Secretary to the Treasury said, "I really enjoyed my visit to DS Smith Tuxford, which is an important employer in my constituency. I welcome the opportunity to learn about DS Smith's expertise in sustainable packaging and its forward-thinking approach to the circular economy and innovation. At the Treasury, we are keen to work closely with business and have recently concluded our consultation on the design of a Plastic Tax to encourage recycled content in plastic products."