DEFRA Visits UK's Largest Recycled Paper Mill
On May 17, DS Smith welcomed officials from DEFRA's Resources & Waste Team to its Kemsley Paper Mill for a site visit to coincide with the conclusion of the government's Resources and Waste Strategy consultations.
As the UK's largest recycled paper mill, Kemsley reprocesses 30% of the UK's recycled paper and card feedstock. The site tour follows hot on the heels of DS Smith's announcement that research involving Reigate and Banstead Council, one of the DS Smith's customers, demonstrated the financial benefits of separate collections for paper and card - suggesting that £100 million in savings could be realised by local authorities were the concept to be adopted nationwide.
The tour of the mill, which produces over 825,000 of recycled papers per year, focused on the challenges of producing high quality performance packaging papers for use in today's changing world – where consumers and brands are demanding more and more from their packaging in terms of performance and recyclability.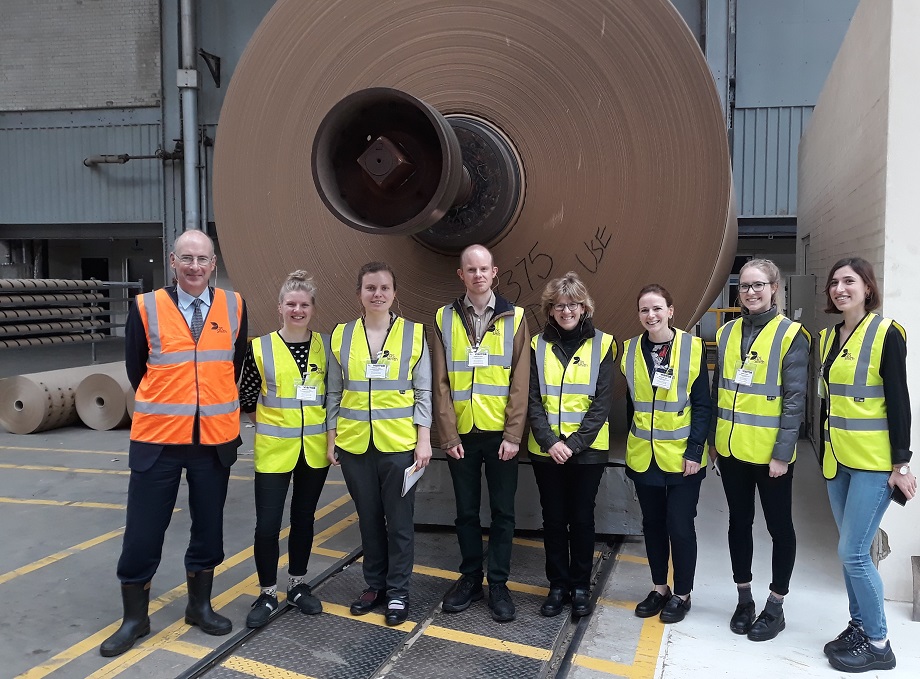 In the age of the 'Blue Planet', sustainability issues were at the heart of the conversation. The DEFRA team were able to see how the 2.5 billion discarded coffee cups in the UK could, if collected separately, be recycled at Kemsley and used in new packaging products
Away from the paper recycling process the team also looked at waste management and energy challenges at the Mill. These included the on-site anaerobic digestion capability for dealing with organic waste from the paper making process, and its recently commissioned new combined heat and power (CHP) plant, which will help reduce carbon emission on site by around 36,000 tonnes every year. Officials were hugely impressed with the size and scope of DS Smith's Kemsley operations and continued investment into recycling more 'hard to reprocess' materials.
We were delighted to welcome the Team from Defra to our Kemsley facility and offer an insight into the work we do. The visit was a timely and important opportunity for DEFRA to learn more about our operations, industry views and experiences, following the recently-concluded Resources and Waste Strategy consultations. These consolations will really help shape the performance of the recycling industry over the coming years. As well as DS Smith being a collector we are also a reprocessor, and that means we see first-hand the importance of quality in recycling materials used in manufacturing processes.

— Peter Clayson, Head of Government and Community Affairs
"Our own research here at Kemsley shows that contamination of paper and card for recycling coming through mixed collection streams can be up to double of what we would expect to find from streams where paper and card are collected separately. Recent work from some of our customers has shown that the financial case for separate collections is a compelling one"