MEP Antony Hook visits Kemsley Paper Mill to discuss the circular economy
Member of the European Parliament for the South East, Antony Hook, visited DS Smith's Kemsley Paper Mill in Kent last week to discuss the circular economy.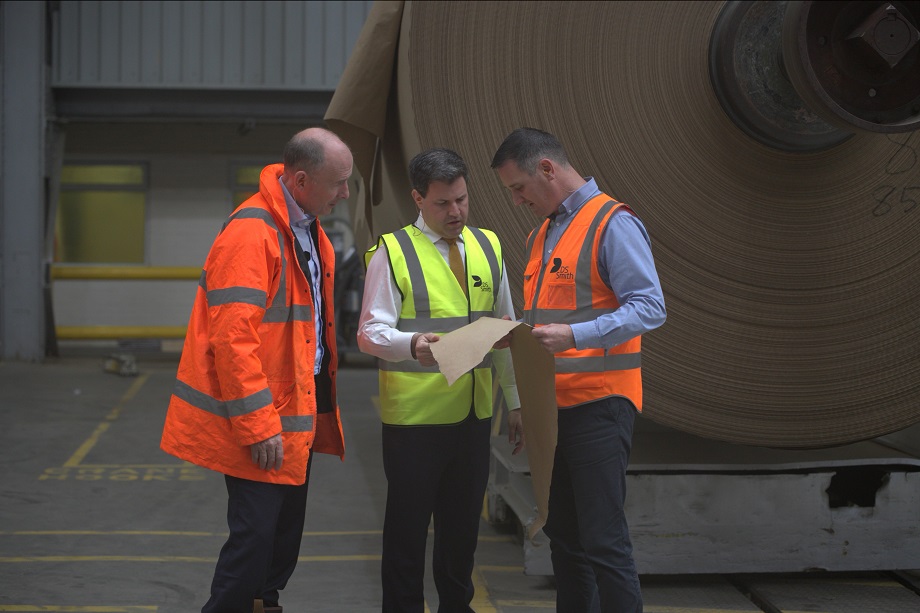 Mill Manager, Ben Jennings, welcomed Antony to the site, while Next Gen Technology Director, Guy Lacey, gave an overview and tour of the paper mill, demonstrating how leading industry standards are being driven across the business.
The visit provided Antony Hook with insight into the role DS Smith plays in the manufacturing and recycling of paper across Europe.
The scale of the investments DS Smith has made in this manufacturing facility is really impressive. Seeing bales of recycled paper arriving at the mill and being reprocessed into new reels of paper really opened my eyes to the importance of keeping recyclables free of contamination and the possibilities for improving material flows in Europe.


— Antony Hook
As pressure on the UK Government to tackle climate change continues, DS Smith showcased how we are putting sustainability at the heart.
We demonstrated the increasing importance of the circular economy, raw material quality for our manufacturing processes, and the benefits we see in the separate collection of paper.
We're really pleased to be able to engage with MEP's to discuss our local operations and the development of policies that directly impact our industry, our customers and our communities. The circular economy is a key focus for DS Smith. It is something we are both passionate about and committed to investing in.


— Peter Clayson, Head of Government and Community Affairs