Witzenhausen Mill supports students' recycling graduation project
Over recent weeks, the Witzenhausen Mill in Hessen, Germany, has provided high school students with insights into the paper recycling process.

Three pupils from Leinefelde Secondary School were invited to visit the Witzenhausen mill as part of their school graduation project. The team at the mill were happy to support these students throughout all the stages of their project, which involved
topic-finding
planning
elaboration
scheduling
product development, and
presentation.
During their visit to Witzenhausen, the students were introduced to the entire process of recycling and papermaking. The impressive mill machinery boosted their enthusiasm for their project – and during the project they overloaded the team with questions, demonstrating their increasing knowledge of recycling and paper!
A few weeks after the visit, the students submitted an impressive first draft, detailing how they had understood the recycling and papermaking process.
After returning to their school, members of the team at the mill were given a final presentation by the students – where they demonstrated how they had used practical tools to recreate what they had learned at the mill. With no lack of creativity, the students used kitchen mixers as pulpers, along with a whole array of other kitchen items to help them replicate our mills Sheet Production processes. Finally, the students presented their own designed and constructed recyclable waste container.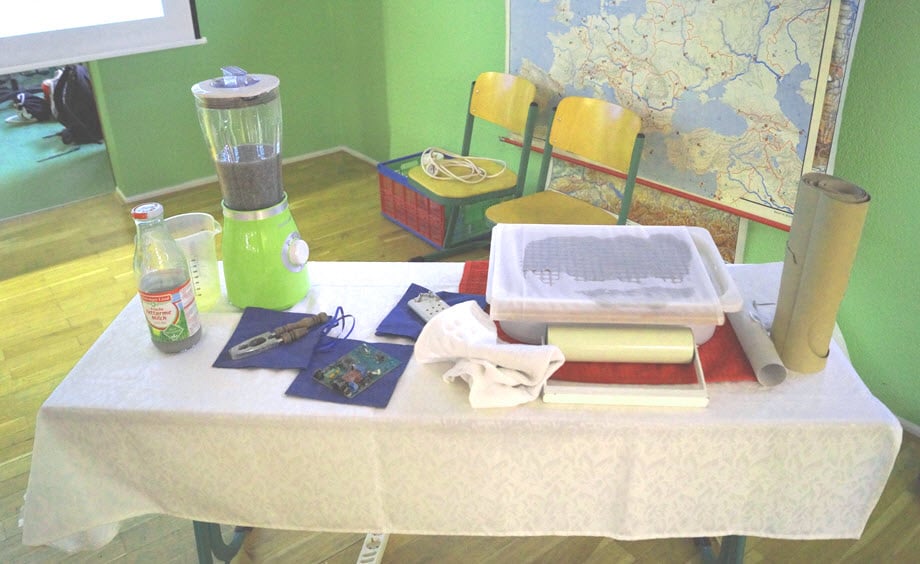 As a leading recycler and paper maker, it's important that we at DS Smith contribute to a broad understanding of the processes and challenges involved in making paper from recycled fibres. Proving students with access to our facilities, such as the mill in Witzenhausen, provides students with a great learning opportunity and bring things to life outside of a classroom situation.