DS Smith develops versatile solution for Euryza's complete production line
Displays are proven to boost sales at the point of sale. However, the more extensive the product range is, the more complex the processes often tend to be. For this reason, Euryza GmbH - known by brands such as Oryza and reis-fit - was looking for a clever alternative.
Eventually, the German market leader found the solution at DS Smith. At its PackRight Centres in Fulda and Hamburg, the display and packaging strategists developed in close cooperation with the customer a comprehensive harmonisation concept that considerably simplifies the complexity of the previous display portfolio. Whereas in the past, a new display was developed and produced in short runs for every sales promotion in the wholesale and retail trade, the new solution consists of a single clever display system is for all brands and promotional campaigns.
Body, shelves, posters, plinth covers and trays can be adapted flexibly to the different requirements of the particular product promotion. Whether box, stand-up pouch, bag or sauce jar - the construction offers sufficient space and stability for the entire range. High-quality, varnish-coated printed designs guarantee that the shoppers will pay the necessary attention to the display.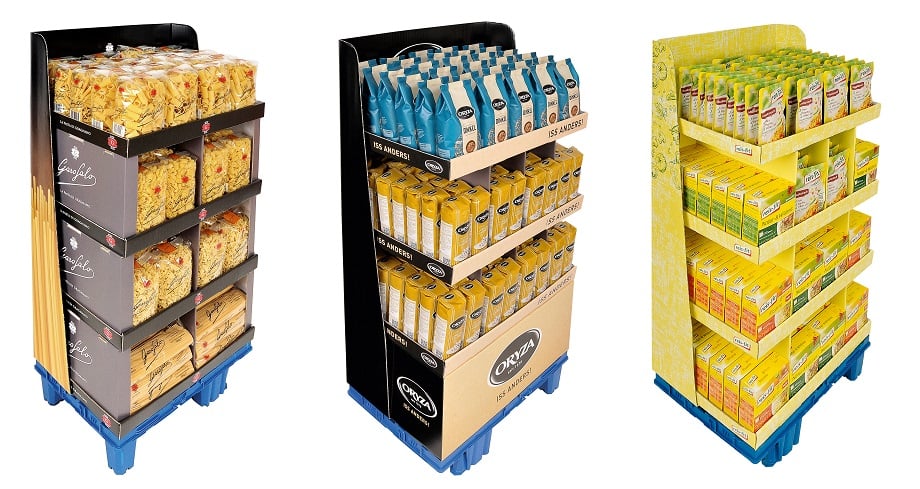 The new solution is incredibly flexible. Thanks to the few, standardised components, different graphic designs can be combined and processed in one production cycle. Storage and handling of the system is also considerably more efficient. With the new modular display solution, Euryza benefits throughout the entire supply cycle: due to higher flexibility, significantly improved time to market and lower costs.
Euryza has been using the solution since 2017 and has been able to promote all of its twelve product lines with just one modular POS display. The clever masterpiece, which bundles numerous variants in just one system of twelve components, gives Euryza greater flexibility for Euryza to display its extensive product range in the retail trade. DS Smith's all-round display helped the company to shorten time to market, reduce costs and significantly increase flexibility in promoting its popular rice and pasta specialities on the sales floor.