Stuart McDonald MP visits DS Smith's Glasgow recycling depot
MP for Cumbernauld, Kilsyth and Kirkintilloch East visited DS Smith's recycling depot in Kilsyth on 11th March 2019.
Alongside having a tour of the facility, we took the opportunity to present Mr McDonald our circular business model with packaging, paper and recycling operations which can collect and recycle used cardboard into a new box in only 14 days , and our innovative packaging solutions that are designed to be smarter and more sustainable.
With the raise of e-commerce and change in shopping habits, there has been an increased pressure on retailers, producers and manufacturers alike to reduce waste and decrease consumption of natural resources, and our business model can play an important role in addressing these issues. As the UK Government continues its consultations about Packaging Waste Regulation, this visit provided Mr McDonald with key insight from the local industry experts.
Our Head of Government and Community Affairs, Peter Clayson, focused on the importance of quality and our leading industry standards for recycling. In the last 12 months we've invested in expanding our recycling infrastructure to include an eight-step inspection process across our network of UK recycling facilities, to ensure that we only send the highest possible quality of paper for recycling on to paper mills. A video has been produced to showcase our quality management process.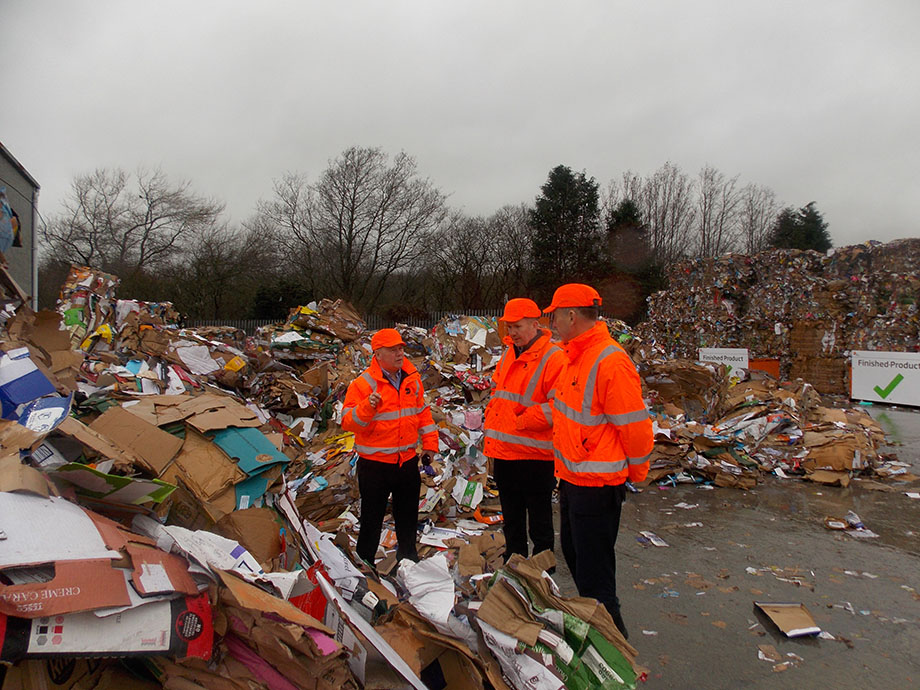 Stuart McDonald said:
With growing global and environmental pressures, it is vital that the UK is making sustainable decisions regarding legislation. Scotland is ambitious about improving its recycling rates and we must continue to work with industry experts, such as DS Smith, to inform our ongoing policies. I always enjoy spending time in my local constituency and it's so encouraging to hear of the growth and value that a business such as DS Smith, with its global scale and local footprint, is generating.
Peter Clayson said:
It is great to engage with Members of Parliament to discuss our local operations and the development of policies that directly impact our industry, our customers and our communities. We want to ensure that our expertise is used to inform legislation that will concretely support a more sustainable future.
As a leading provider of sustainable packaging solutions, we are committed to nine ambitious, long-term sustainability targets. One of these objectives sees DS Smith being a responsible neighbour, engaging in community programmes that champion education and environmental sustainability at 100% of our sites by 2020. Robert Kirkland, Glasgow depot's Operations Manager, is focussed on expanding the depot's reach into the local community and looking to invite local schools for site tours to enhance their understanding about recycling, packaging and sustainability, inspiring them to continue to own their part in protecting the environment. Our Avonmouth depot recently carried out a similar initiative, delivering a lesson on sustainability to local pupils from the Becket Primary School in Worle.
Likewise, the DS Smith Charitable Foundation recently donated to the John Muir Trust to continue to support their vital conservation work in Scotland.