DS Smith Recycling wins Green Apple Award for 30-year Tesco partnership and "world-class waste management system"
DS Smith Recycling has won the Silver Green Apple Award for Environmental Best Practice for its 30-year partnership with Tesco.
The annual Green Apple Awards, which recognise, reward, and promote environmental best practice around the world, saw Nicholas Power, Head of Key Accounts and Supplier Management at DS Smith Recycling, collect the award on 12th of November 2018 at a carbon-neutral ceremony in the Houses of Parliament.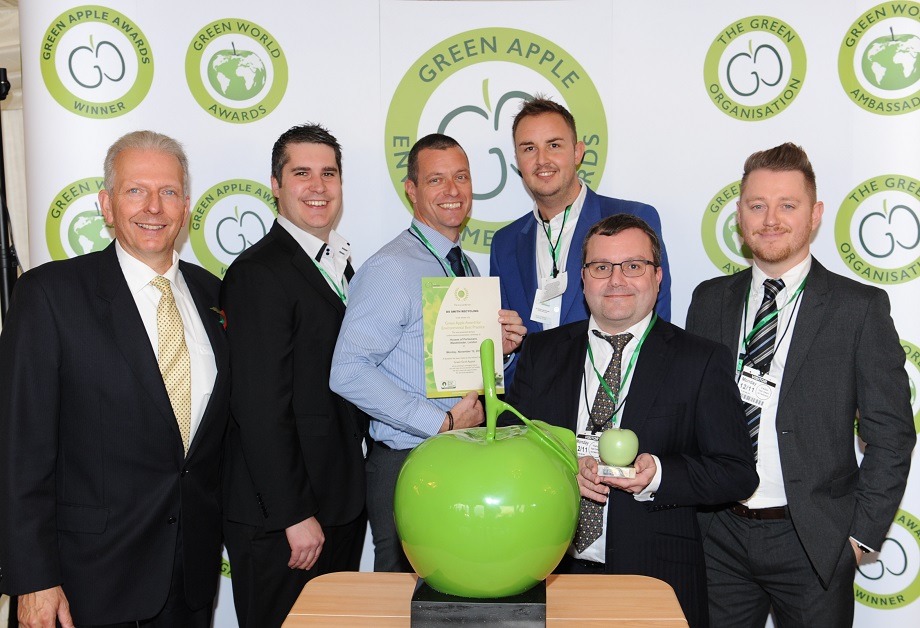 DS Smith won the award due to its long-standing partnership with Tesco, which has seen the national retailer divert 100% of its residual waste from landfill. The company was also recognised for its wide range of innovative projects, including logistics excellence, having helped Tesco to double the amount of waste carried in one load, which has halved the number of trips required for transporting waste streams.
"We're pleased to have received this award for environmental best practice, which highlights the dedication of teams across Tesco and DS Smith in allowing this partnership to achieve its full potential. We pride ourselves on offering the most effective and innovative solutions to recycling and sustainability challenges, and winning the Green Apple Award shows that our hard work and dedication are being recognised."

— Nicholas Power
The Tesco partnership, which was formed in 1985, aims to support the multi-national retailer in the continuous improvement of its recycling and waste management initiatives. Since its inception, DS Smith has provided recycling and waste management solutions for Tesco UK and its European operations at 3,000 sites across five countries. As part of the partnership, the DS Smith and Tesco teams have worked together to backhaul Tesco's waste streams, divert 100% of its residual waste from landfill, expand operations across Europe, and develop several innovative projects to improve the handling of Tesco's waste streams, including those for polystyrene, food waste, and animal by-products. DS Smith has also developed industry-leading bulk compactor bins, the size of a fully articulated lorry, which have doubled the amount of waste carried in one load and halved the number of trips needed to transport waste streams.
The judges commented:
Despite having had a good working relationship for over 30 years, the synergy is continuously evolving to improve recycling. Through combined efforts of waste avoidance, streamlining and service provision they have a world-class waste management system.
In the recent past, Tesco was also DS Smith's chosen partner for filming its 'Box to Box in 14 Days' video, which demonstrated the closed-loop process of paper recycling. Most of Tesco's fibre supply is sold to DS Smith's mill networks in the UK and Europe for recycling and reprocessing.
Power added: "These projects demonstrate the strength of the partnership. With our help, Tesco has significantly improved its recycling and waste management strategies. We look forward to continuing our work with Tesco, which will allow the company to take advantage of newer, more efficient technologies for waste management. Waste management is a challenge for any businesses, but by working with DS Smith, companies like Tesco can, and do, make the process much easier."