DS Smith toasts collaboration with Veuve Clicquot
DS Smith has helped design and produce an innovative new eco-friendly packaging concept for world-renowned Champagne house.
Veuve Clicquot has a reputation as a world-class champagne producer but also as a global business with a commitment to protecting the environment. As Europe's leading supplier of recycled corrugated packaging, DS Smith was the perfect choice when Veuve Clicquot was looking for a new innovative, sustainable packaging solution.
The champagne house challenged DS Smith to produce the most environmentally responsible packaging possible by incorporating the waste products of the champagne-making process.
DS Smith spent three years working closely with Veuve Clicquot and paper manufacturer Favini, to research and develop a new, 100% biodegradable and recyclable carton design.
Jean-Charles Moras, Key Account Wines and Spirits Manager at DS Smith Consumer Packaging said: "It was an honour to work with a brand that is not only globally recognised but also really innovative and environmentally conscious. Veuve Clicquot had clear ideas of what they wanted to achieve from this collaboration and we welcomed the opportunity to spend time researching and developing this unique design for them."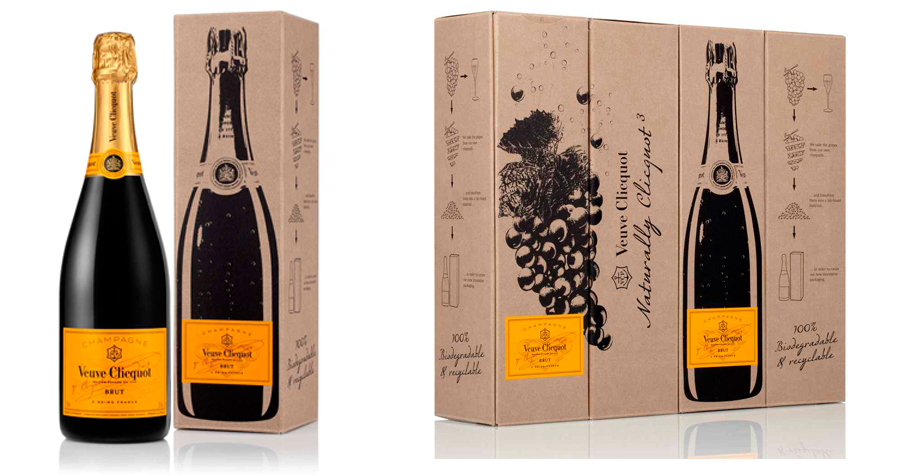 The resulting pack is not only elegant and unique but is created using paper from a blend of grape residue and natural fibres. By using grape residue from the Veuve Clicquot manufacturing process as natural pigments to obtain a unique dyed paper DS Smith saved 5.2 tonnes of virgin fibre per batch.
In addition, the carton printing is based on solvent-free ink and varnish, and the pasted label is sugar-cane based, keeping the environmentally conscious pack consistent throughout.
The finished pack design is known as Naturally Clicquot and clearly demonstrates Veuve Clicquot's brand values – luxury yet eco-friendly.
Patrice BARAUD, New Product Development Director MHCS said: "Sustainability is so important to us as a business and we love working with our partners to find eco-friendly, innovative approaches to all aspects of the business. When we started on this journey, DS Smith was the partner of choice for this project and the finished result demonstrates that this was a wise decision.
"We feel really proud that we have found a solution that means we can use the wasted grape residue from our core business to support the packaging of our products. The design and concept is so aligned with our business values, it's fantastic."