Alex Mayer MEP visits DS Smith Recycling Cambridge
On 27 July, Alex Mayer, Labour MEP for the East of England, was welcomed to DS Smith Recycling Cambridge. Alongside taking a tour of the facility, Mayer took the opportunity to talk to DS Smith about China's import ban and its global impact on the waste management industry.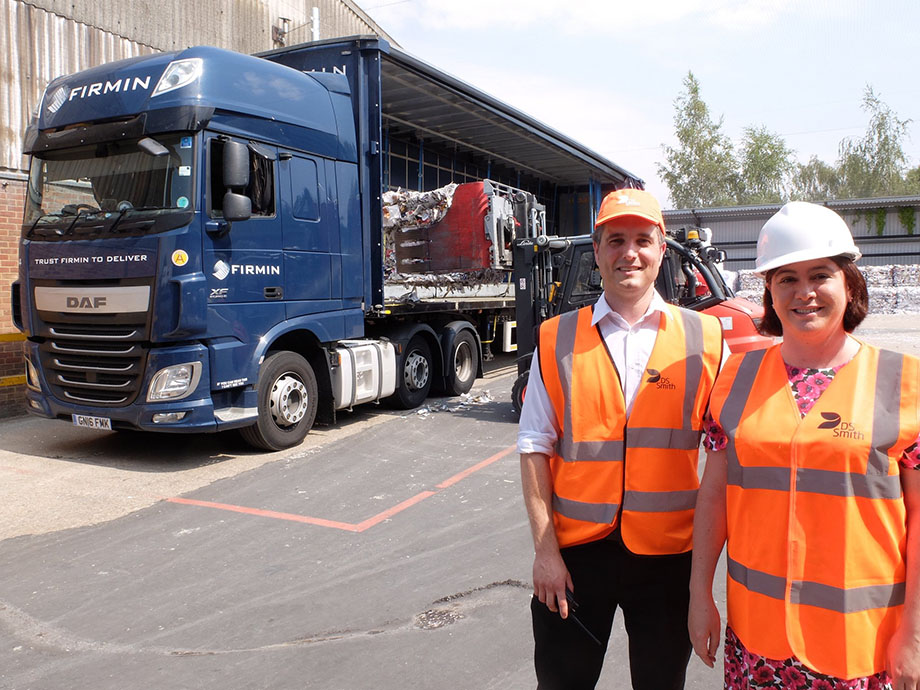 DS Smith's Cambridge facility plays a vital role in the company's national recycling network. Recently showcased in DS Smith's 'Box to Box in 14 Days' closed loop recycling video, the site processes more than 65,000 tonnes of paper every year – providing the raw material for DS Smith's Kemsley paper mill, as well as partner mills around the globe.
Mayer is a longstanding advocate of recycling, and continues to offer her public support for environmental best practice. Speaking about the visit, Mayer commented:
My visit to DS Smith's Cambridge facility gave me fascinating insight into the paper recycling industry. The tour provided clarity about the need for a uniform and consistent collection infrastructure to minimise contamination.
Craig Masters, site manager for DS Smith Recycling Cambridge, added: "It was a real honour to welcome Alex Mayer to the depot. We'd like to thank her for taking the time out of her busy schedule to visit the site and learn more about our role in delivering recycling best practice and providing a valuable recycling centre for the Cambridge area."
Peter Clayson, General Manager for Business Development and External Affairs at DS Smith, concluded: "The visit of Alex Mayer MEP to our Cambridge facility coincided with the launch of DS Smith's 2018 Sustainability Review – a far-reaching document outlining the business' sustainability goals up to 2030. The document supports our ongoing push for legislative change at a European level, so it was great to have the opportunity to share our latest industry insights with an MEP who has shown such leadership on recycling issues."