Jochen Behr, Head of Recycling, opens parliamentary reception to launch 'Demand Recycled' report
On 20 November 2018, Jochen Behr, DS Smith's Head of Recycling, opened a parliamentary reception to launch a new report into potential policy measures to increase the use of recycled materials in manufacturing products.
The report, titled Demand Recycled: Policy Options for Increasing the Demand for Post-Consumer Recycled Materials, was commissioned by the Resource Association and WWF UK, and produced by Eunomia Research and Consulting. Responding to the growing need for detail around the upcoming Resources and Waste Strategy, the report investigates the range of policy options available for increasing the demand for recycling materials, and evaluates the effectiveness of a range of proposed policy interventions.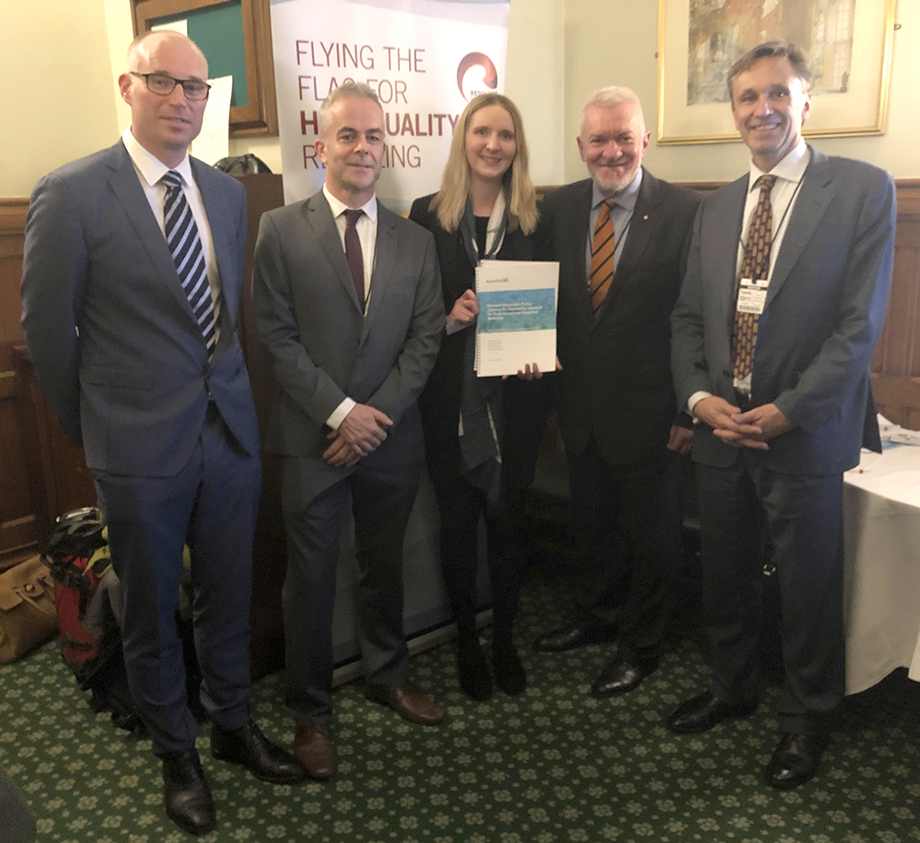 DS Smith is delighted to be involved in the launch of the Demand Recycled report. The resources industry requires clarity on how to increase demand for recycled post-consumer material, and this report breaks new ground in the debate, bringing fresh detail and perspectives to the discussion.

— Jochen Behr, Head of Recycling at DS Smith
Ray Georgeson, Chief Executive of the Resource Association, said:
All parts of the resources supply chain for too long have talked in general terms about the need to boost demand for recycled material and use demand-pull measures to develop the markets to assist in reaching higher recycling targets. This report now adds a real level of detail to this discussion with some much-needed fresh thinking. The Resource Association was delighted to collaborate with WWF-UK in commissioning this work from Eunomia as a contribution to the wider, detailed debate that is now needed.
Toby Roxburgh, Chief Economic Adviser to WWF UK, added:
As public concern about plastic pollution in the oceans drives both Government and industry action to address improvements in waste and resource management, reducing raw material inputs and boosting sustainable recycling become essential components of the new Resources and Waste Strategy. In the need for 'bold and radical' thinking to feed policy change and deliver the outcomes that society now desires, this research and analysis is a welcome contribution.
Dr Dominic Hogg, Chairman of Eunomia Research and Consulting, the primary author of the report, concluded:
New challenges on resource use require new thinking and new collaborations. I was delighted to be commissioned by WWF-UK and the Resource Association to conduct this analysis and it is good to see productive NGO and industry co-operation on shared concerns. As the Treasury considers its proposal for a tax on plastics, with consideration of exemptions for materials with high recycled content, we believe this type of mechanism should be a strong candidate for consideration as it combines a fee with an incentive to use PCR.
The report was launched at the Resource Association's Parliamentary Reception on 20th November, hosted by Alex Sobel, Member of Parliament for Leeds North West and member of the House of Commons Environmental Audit Committee.