The Circular Economy in Action
An essential element of any circular economy is collaboration – sharing and working with other parts of a supply cycle to make the most out of the resources available. At DS Smith, we view materials as a resource within a supply cycle: a cycle where high quality materials, resulting from quality recycling streams, are put back into the same or equivalent manufacturing applications.
The company has long operated closed-loop recycling with paper and cardboard, collecting materials, reprocessing them at our paper mills and sending them to our packaging facilities, with new cardboard boxes getting back on the shelves within a 14-day cycle. By collaborating at every stage – design, manufacture, logistics, retail, consumer, recycling – resources can be used more efficiently. It's a more efficient, economical and environmentally friendly approach to resource management than traditional linear supply chains.
DS Smith has grown recently, both organically and by acquisition, and in doing so has implemented this philosophy into new territories. The acquisition of the Duropack Packaging Group in May 2015 brought together the whole supply cycle for DS Smith in Croatia, from packaging manufacturing to the collection and recycling of materials. The group integrated the Belišće paper mill into its Paper Division, while the Recycling Division gained the collection operations of Unijapapir, a long-established Croatian recycling company. DS Smith's Packaging Division inherited two packaging locations, one at Belišće and Biokalnik (partially owned by Biokalnik IPA) in Koprivnica, and the Plastics Division gained a plastics packaging business in Karlovac, which can utilise recycled rigid plastics to make new plastic packaging such as crates and boxes. This makes DS Smith the only company in Croatia that can provide the full range of sustainable packaging supply services in-house – the circular economy in action.
Unijapapir works for the Croatian Government's Environmental Fund to collect packaging materials throughout the country, the Croatian equivalent to the UK's Packaging Waste Regulations and PRN (Packaging Recovery Note) system. Last year the company collected 100,000 tonnes of paper, metals, glass, plastics, foil and wood materials for recycling. DS Smith's recycling collections target both municipal and commercial enterprises, processing all collected materials within the boundaries of Croatia. Eighty per cent of all collected materials is paper and cardboard, and is the main source of resources for the Belišće paper mill.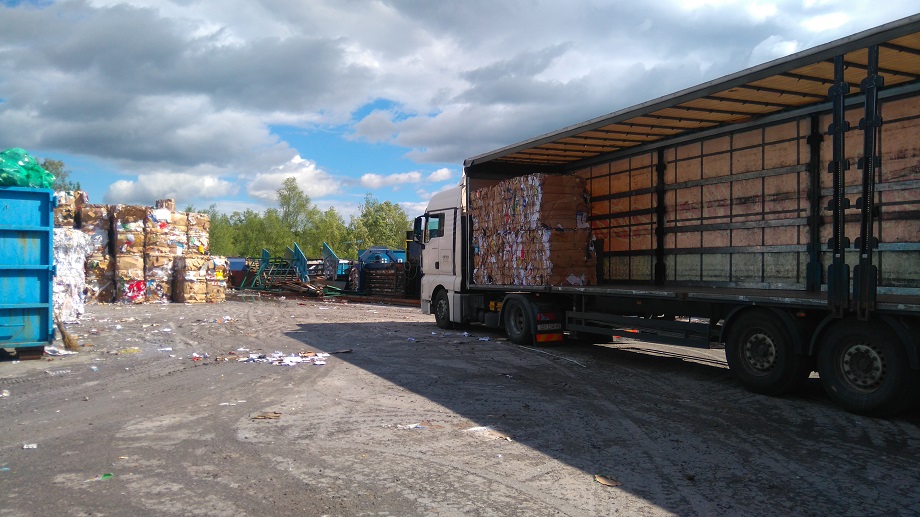 The Government scheme has two different groups. The first is a beverages deposit system, where the Government pays the company to collect and service the four centres we operate in Novi Dvori, Osijek, Split and Koprivinica. These act as central points for Government collectors of all beverage containers from shops and restaurants. The second group covers all other materials not on the deposit scheme, and the Government pays us a subsidy amount when materials are sold to a domestic reprocessor.
As with other circular economy models, the quality of materials is crucial to ensure other parts of the supply cycle receive a constant, consistent source of usable resources. Experience shows targeting the separate collection of material generates the highest quality and value of material, and this approach is maintained throughout all the countries we operate in.
Our Supply Cycle Thinking, which helps our customers to mitigate risk, keep costs down, and increase sales, means we examine how our customers acquire, use and dispose of their resources and make their systems more efficient. By implementing better recycling systems in businesses – such as, through the use of special equipment, different containers and office boxes that allow for different ways of collecting – card and paper can generate a higher value than if collected through a commingled system. Producing clean, high-quality card and paper for recycling can add a revenue stream to businesses that collect it properly.
Igor Kuleš, our General Manager for Recycling in Croatia, says:
Our customers' attitudes and awareness of waste issues are rapidly changing. Today they are looking at the cost of waste disposal to make sure it is as small as possible, and are recognising that segregated materials have a higher value when reused or recycled. Segregation is extremely important because it significantly increases the quality of materials and reduces costs.
In Croatia DS Smith offers an extensive range of packaging products and services, tailored to different customers' needs. But in general three main packaging designs are offered: retail and shelf-ready packaging, industrial packaging, and corrugated point of sales materials. Packaging must cater to customers' needs and be fit for purpose, as well as having the potential to be reused and recycled after it's served its original use.
Igor Kuleš adds: "Croatian businesses and entrepreneurs are aware of the importance of packaging and its impact. We are trying to help them on their way by producing sustainable packaging."
We work with many retailers and FMCG companies within the Croatia. This includes domestic retailers Tommy and Plodine, as well as more international brands such as Coca Cola, Lidl, Spar, Billa and Kaufland. Podravka, the leading food brand in South East Europe, is one example of closed-loop recycling, where Bilokalnik and Belišće Packaging deliver boxes and the Recycling division picks up waste paper.
Since the acquisition, investment in machinery and equipment has helped to boost quality of materials collected for recycling. In the Packaging division, new machinery in the facility has resulted in improving the customer offering, while the Belišće paper mill has restarted PM3, a paper production machine that had been idle since May 2014. Within two months the mechanical and electrical equipment were overhauled, the old power plant recommissioned, stock preparation plant capacities improved, and machine operators and support staff trained.
In the Recycling division, three waste depots were merged into one, located at Novi Dvori, near Zagreb. This one depot has been expanded and completely restructured, bringing in employees from the other two depots, based in Podaupski and Sarajevska, and improving working conditions. By concentrating in one location, the company has a better view on the total quantity and quality of the final product with all baled paper classified to CEPI standards.
By working together with different elements of the supply cycle, resources are managed more efficiently and effectively. Instead of working in isolation, the emphasis is on sharing knowledge and experience of the process, from designing the packaging to collecting the material to put back into the cycle once more. This approach exemplifies how the circular economy can work in reality, demonstrating the importance of generating high-quality materials for a consistent supply of resources to manufacturers, and keeping these materials within the economy for as long as possible.