Penny Mordaunt MP visits DS Smith Recycling Portsmouth Depot
Penny Mordaunt MP, Secretary of State for Defence and Minister for Women Equalities, visited DS Smith's Recycling depot in Portsmouth on 14 June 2019.

As pressure on the UK Government to tackle climate change continues, the visit provided Penny Mordaunt insight into the role DS Smith plays in the recycling industry and the opportunity to talk circular economy with the industry experts.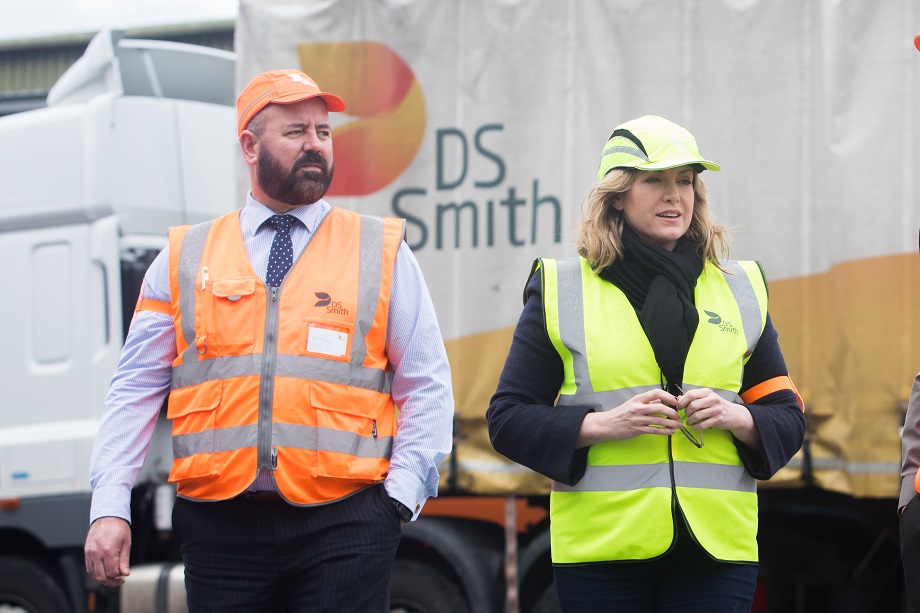 Photo credit: Ciaran McCrickard/PA Wire
As the newly announced 11th Global Partner of the Ellen MacArthur Foundation, we spoke about our significant investment in the innovative re-design of our packaging and recycling systems to support the transition to a circular economy. These leading industry standards for recycling are being driven across all DS Smith sites.
We presented new research to Ms Mordaunt, highlighting the 1.5 million tonnes of plastic that could be replaced by fibre-based products each year from just five areas within supermarkets across Europe. We also shared recommendations to combat the UK's Recycling Tipping Point which will lead the UK to miss its recycling targets by more than a decade. Recommendations include the appointment of a recycling minister and prioritising waste separation.
Penny Mordaunt said, "I thoroughly enjoyed my visit to DS Smith's Portsmouth site today. I welcome DS Smith sharing its expertise in sustainable packaging solutions and its approach to the circular economy and innovation. As the first generation to understand the impact our actions are having on the world around us, it is vital that Government and business work together to find sustainable solutions."
We're thrilled to be able to engage with Members of Parliament to discuss our local operations and the development of policies that directly impact our industry, our customers and our communities. The circular economy is a key focus for DS Smith. It is something we are both passionate about and committed to investing in. We are excited to have partnered with the Ellen MacArthur Foundation and are looking forward to working with them and Government to further innovate packaging design and the e-commerce industry.


— Peter Clayson, Head of Government and Community Affairs