Darren Jones MP Visits DS Smith Recycling Bristol Depot
Bristol North West MP, Darren Jones, visited DS Smith's Recycling depot in Avonmouth, Bristol on 21st June 2019.

As e-commerce booms and shopping habits evolve, there has been an increased pressure on retailers, producers and manufacturers alike to reduce waste and decrease consumption of natural resources. This has led to calls for more innovative packaging solutions that are designed to be smarter and more sustainable. DS Smith operates a circular business model with packaging designed to be recyclable. The cardboard collected by our Recycling division is processed by our Paper division and turned into new cardboard boxes by our Packaging division, in just 14 days.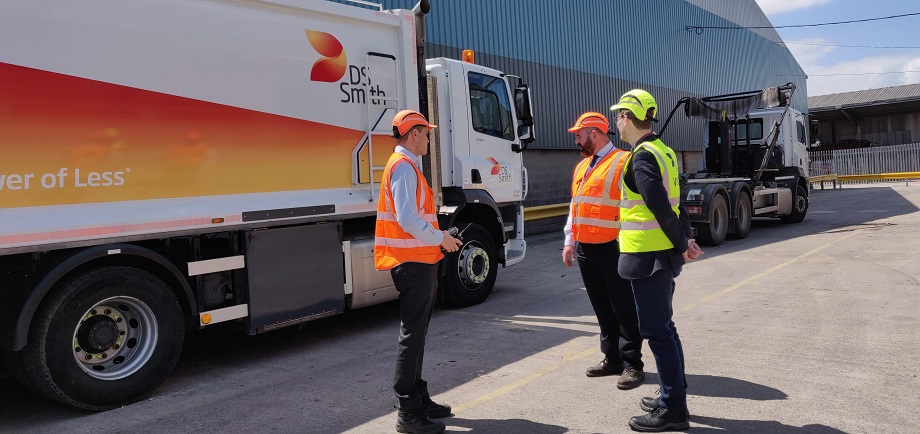 The visit provided Bristol North West MP, Mr Jones with insight into the role DS Smith plays in the recycling industry, and an opportunity to share guidance on how the UK could avoid reaching a recycling tipping point, which would result in the UK missing its recycling targets by more than a decade. Recommendations include the appointment of a Recycling Minister and prioritising waste separation. During the visit DS Smith also shared new research, bringing attention to the 1.5 million tonnes of plastic that could be substituted for fibre-based products each year, from just five areas across European supermarkets.
Darren Jones said,
My visit to DS Smith's Avonmouth site today was an eye-opening experience. I welcome DS Smith sharing its expertise in sustainable packaging solutions and its approach to recycling and the circular economy. I fully support its calls on Government, local councils and businesses to work together to find sustainable solutions.
Simon Thomas, Area Manager at DS Smith Recycling said, "At DS Smith we have a purpose of Redefining Packaging for a Changing World, and helping communities to continue to thrive in this rapidly changing environment. By sharing our expertise with local MPs, we can inform legislation as it is created to enable a more sustainable future for consumers and the environment."