DS Smith wordt beloond met platina-rating voor duurzaamheid door EcoVadis en behoort tot de top 1% beste bedrijven wereldwijd
In onze meest recente EcoVadis-duurzaamheidsbeoordeling hebben wij de 'platina'-classificatie behaald, waarmee wij tot de beste 1% van de door EcoVadis beoordeelde bedrijven wereldwijd behoren

Met name scoorden wij 90% voor onze prestaties op het gebied van duurzaam inkopen, met lof voor ons programma voor leveranciersbetrokkenheid en de FSC-certificering van de handelsketen, en 80% voor milieukwesties, met lof voor de "uitzonderlijke" rapportage over milieukwesties.
We behoorden tot de top 2% in onze sector.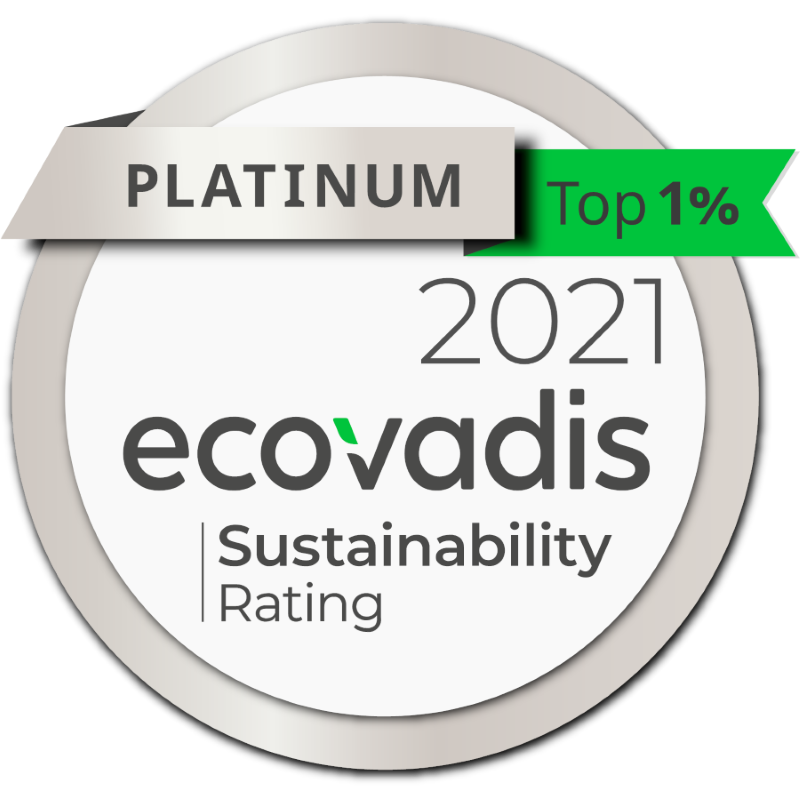 Tot onze sterkste punten behoren onze inspanningen om de kringloop te sluiten door beter ontwerp en bescherming van natuurlijke hulpbronnen, als onderdeel van onze duurzaamheidsstrategie Now and Next (door EcoVadis geprezen als het "systematisch gebruik van lichtere materialen om papier te besparen"), ons streven om 100% gerecycled papier of papier met een chain of custody-certificaat in te kopen, ons streven om 100% van de betrokken vestigingen te laten voldoen aan de ISO 50001-certificering voor energiebeheersystemen en verpakkingen die zo zijn ontworpen dat ze gemakkelijk kunnen worden gerecycled.
Belangrijk voor onze klanten, van wie velen onze EcoVadis-score op de voet volgen, is dat dit aantoont dat wij het voortouw nemen op het gebied van duurzaamheid en de transitie naar een circulaire economie mogelijk maken.
EcoVadis is uitgegroeid tot 's werelds grootste en meest betrouwbare leverancier van duurzaamheidsbeoordelingen, met een wereldwijd netwerk van meer dan 75.000 beoordeelde bedrijven. Bedrijven werken samen met EcoVadis om samen te werken aan duurzaamheid met een gemeenschappelijk platform, universele scorekaart, benchmarks en tools voor prestatieverbetering.
EcoVadis staat naast andere gerenommeerde ESG-beoordelingen waarmee wij ons proactief bezighouden en waarvan wij leren om onze prestaties op het gebied van ESG-onderwerpen, waaronder milieu, arbeids- en mensenrechten, ethiek en duurzame inkoop, voortdurend te verbeteren.