DS Smith puts a revolutionary digital pre-printing machine into operation Open house with more than 180 guests
Fulda, 11 June 2018. As the first company in packaging industry, DS Smith had opted for the revolutionary digital pre-printing technology for medium and large-scale productions in one of their British locations. Now, the company celebrated the commissioning of the second HP T1100S digital pre-printing machine in their site in Fulda, Germany, opening up entirely new possibilities of brand activation and brand protection for their customers.
Together with about 180 guests of leading brands, DS Smith celebrated the official commissioning of the digital pre-printing machine at their site in Fulda. In presentations, workshops and during the official commissioning, the new possibilities this revolutionary printing technology provides for the producers of branded articles and for industry were in the centre of attention.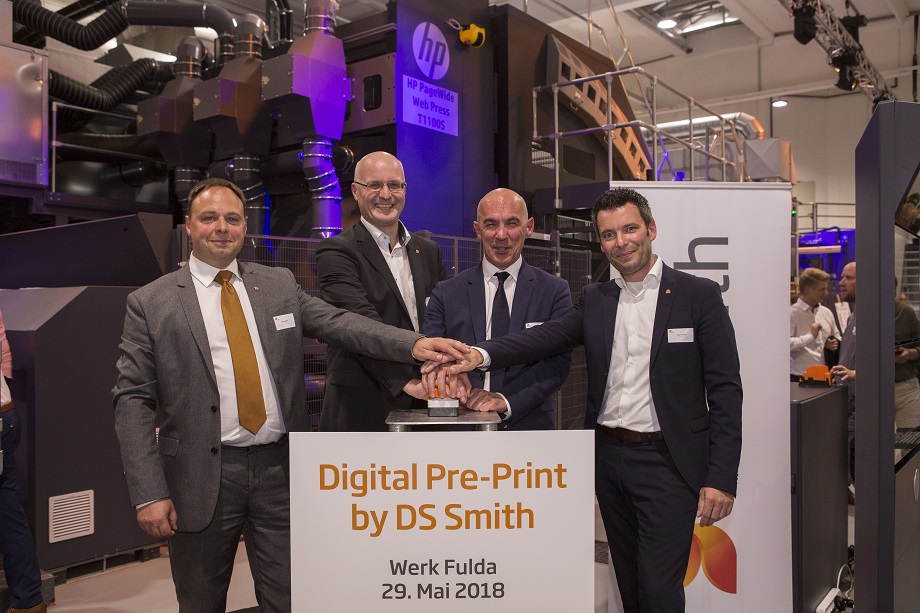 Beaming faces at the official commissioning of the new digital pre-printing machine at the Fulda site: Philip Bautil, Managing Director Central Europe, Rüdiger Lindner, General Manager of the Fulda site, Stefano Rossi, CEO of the DS Smith Packaging Division, and Tom Wetzel, Sector Director Consumer Packaging & Display, all DS Smith (from left to right).
"Innovation is at the top of our agenda, because we want to help our customers to become even better, so that they can continue to take the pole position in their respective markets in the future", underlined Philip Bautil, DS Smith Managing Director Central Europe in his welcoming speech. "Digital pre-printing enables our customers to offer customised solutions even for medium and large-scale productions for the mass market. Together with our customers we enter into a new era of brand activation and brand protection, so that our customers can create the greatest possible value and further market growth."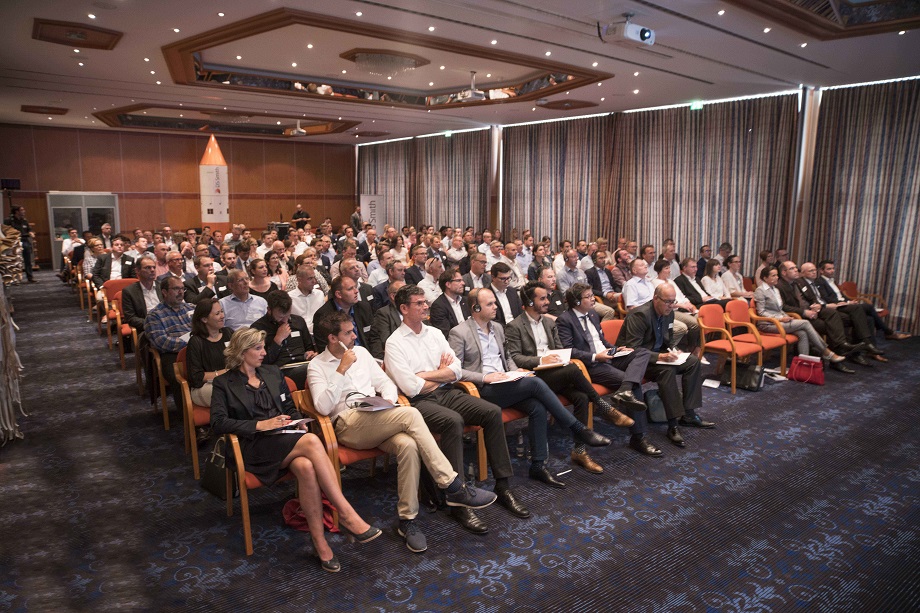 About 180 guests had come to witness the ceremony, to inform themselves on site in presentations, short workshops and at the machine about the new area of brand activation, which is now also possible for medium and large-scale productions, due to the digital pre-printing technology.
Stefan Kunzmann, DS Smith Sales, Marketing and Innovation Director Central Europe happily adds: "From now on, our customers can play the card of the uniqueness of their brands even better. With our mosaic software we are able to make every packaging and every single display a unique specimen, even in medium and large-scale productions. The graphic possibilities are without limits. This offers completely new design opportunities for marketing: packaging and displays can be customised for target groups, occasions, regions or special events. This is not only interesting for packaging intended for retail, but also for those that will be used in e-commerce.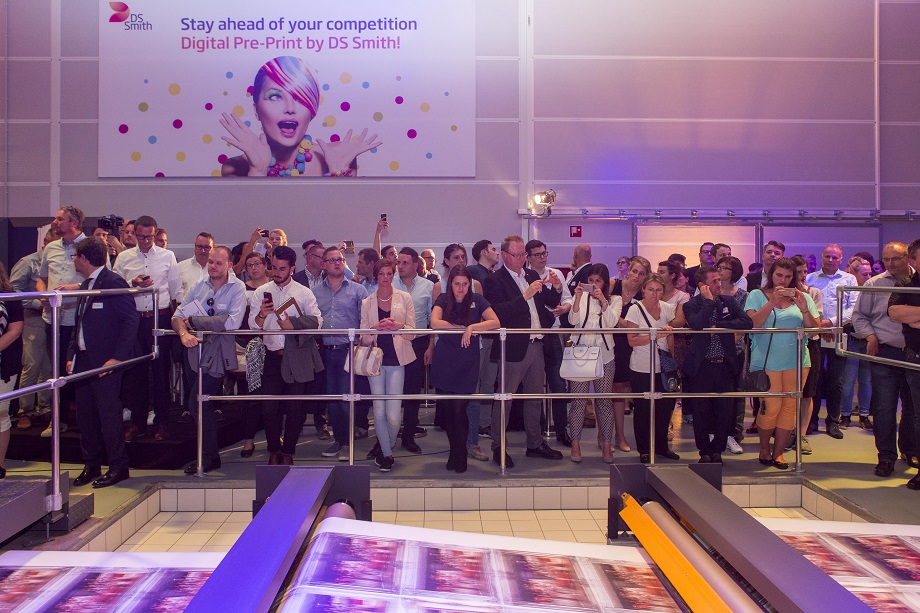 Experience digital pre-printing live: After the official commissioning, the visitors - with an adequate safety distance - could get their own impression of what is possible with the new technology.
The new technology also provides highest flexibility with regards to quantities. Building up large stocks can be avoided, since the products can be simply re-printed if required. Marketing will be glad to hear about the possibility to implement last-minute changes without difficulties if need be. A short-term adaptation of the graphic design is no longer an issue in digital printing, since no printing plates are required. Another positive aspect: The HP PageWide inks used for digital printing are water-based and do not contain any UV-reactive elements. Therefore, primary and secondary packaging for food industry can be printed safely to comply with the highest standards.
"Brand protection is another vast playing field, where we can support our customers with track & trace solutions, serialisation, grey market prevention and in the area of product security", Kunzmann stressed. "Estimates assume that the global sales of counterfeit products amount to 1.4 trillion Euro - while not only the financial damage counts, but especially for medicine, counterfeits can seriously affect the consumers, and in any case fake products damage the brand image."
"For DS Smith digital pre-printing is of strategic importance", said Stefano Rossi, CEO of the DS Smith Packaging Division, at the ceremony. "We firmly believe that this printing technology will revolutionise the market. In workshops in our PackRight Centres we cooperate with the contact persons of our customers from various fields to work out specific feasible solutions that will contribute to increase their sales, to reduce their costs and to minimise their risks. Digital pre-print significantly enhances our existing possibilities."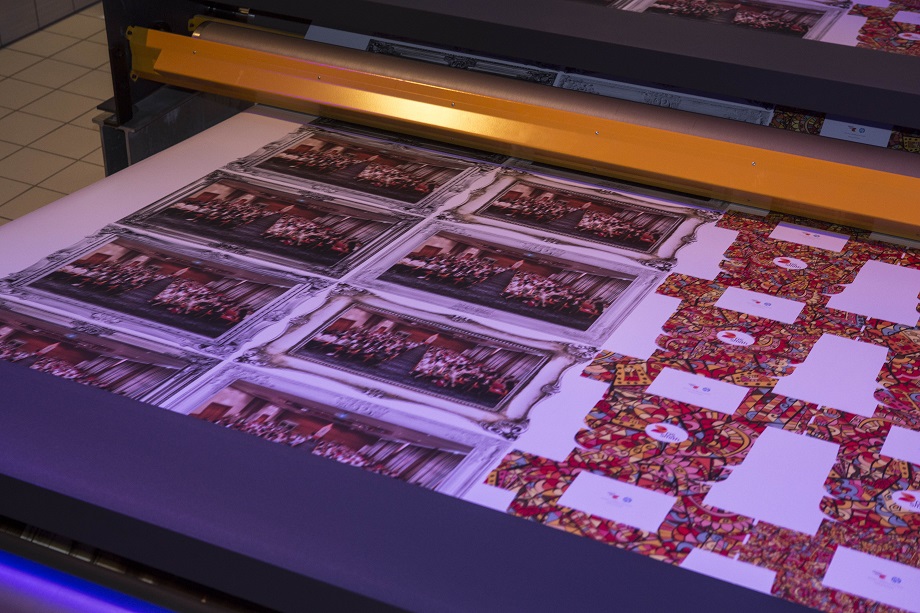 Brave new world: Mosaic print now allows making every packaging a unique specimen, even for medium and large-scale productions. In the so-called multi-lane procedure, it is possible to print two different packaging next to each other.
The project had an investment volume of about 15 million Euro and was realised in less than 12 months. To make room for the new machine, the core of a former paper warehouse in the Fulda factory was removed and it was fitted with new foundations. Then, the installation of the new machine, test runs, and the first production runs started. The Fulda factory not only produces the digital pre-print for their own processing, but will also supply other DS Smith sites all over Europe, which will then process the pre-print and convert it into smart packaging and displays solutions.
And the success story continues: "We will shortly upgrade the new digital pre-printing machine HP T1100S", revealed Rüdiger Lindner, General Manager of the Fulda site. "The machine is currently working with CMYK, we will add a fifth and sixth colour, and will further increase the printing speed. After the upgrade to HP T1190S, we will have printing possibilities that are unique in the whole world of packaging industry."