UK online SMEs gain an edge with DS Smith ePack web shop
Leading packaging strategist announces new online one stop shop bringing online SMEs access to the best packaging available

Europe's leading packaging strategist, is today announcing the rollout of its new online DS Smith ePack store, aimed exclusively at e-commerce businesses. Now live in the UK, the online platform will be introduced across the rest of Europe over the next 12 months.
The web shop is being specifically developed to provide an online environment for DS Smith to expand its services for Small and Medium-Sized Enterprises (SME's) operating online. As the main supplier of the world's largest online retailer, DS Smith is looking to share its e-commerce expertise with smaller businesses across Europe. The new platform means companies will be able to purchase all their packaging online, in one place. Developed to offer a flexible, convenient and speedy service, the online platform will offer a full delivery service, customised printing, bespoke pack options and dedicated customer support, among other features.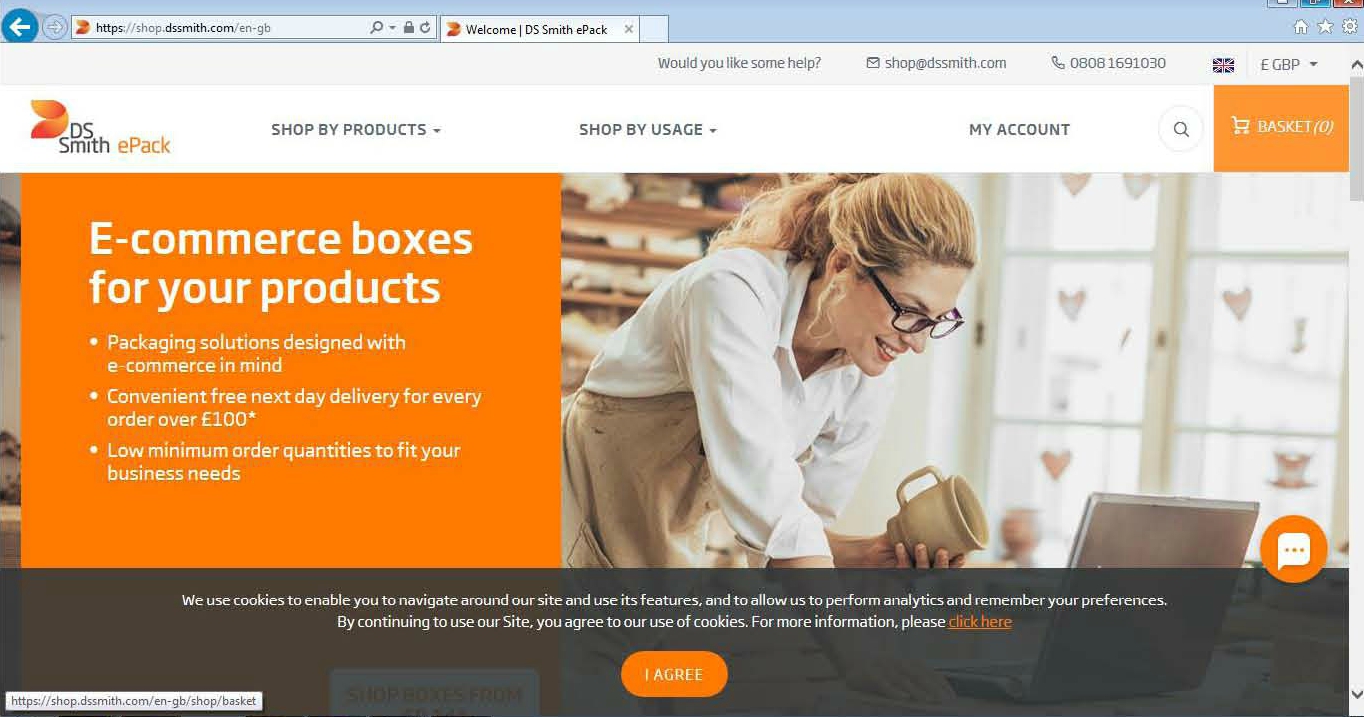 The DS Smith ePack store is focused on helping online retailers that have little knowledge of the importance of packaging or that may be without a solid design strategy. Often the right packaging brings an optimised consumer experience and can reduce costs in material, transportation and damages. A specialised product finder is one of the core functions aimed at helping companies choose the right solution to suit their business needs. The e-commerce platform offers a one-stop-shop for multi-material packaging requirements. Companies can order anything from tapes, mailers and void fill right through to a heavy-duty pack of 300 customised corrugated boxes.
DS Smith experts are available to provide guidance on how packaging choice can benefit a brand as well as how packaging decisions can contribute to streamlining the overall supply chain, through the DS Smith ePack support functions. To help resolve any immediate packaging concerns businesses might be facing, the website includes useful video tutorials and a webchat for instant advice from DS Smith experts.
Existing DS Smith innovations will also be available within the DS Smith ePack store, meaning flexible on-demand digital printing and customised, right-sized packs that are made to fit the goods they contain will all be at the disposal of customers.
Isabel Rocher, Head of e-Commerce Solutions at DS Smith, says, "Our new DS Smith ePack offering is reflective of our commitment to supporting online SME's in the UK and across Europe. The targeted platform means we can continue to help these smaller companies harness the true power of packaging and support the growth of their businesses."
For more information, visit dssmithepack.co.uk